Grantmaking for Change in 2021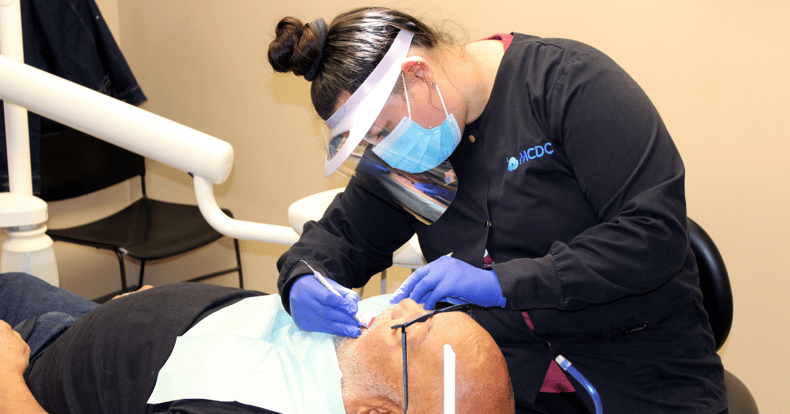 We know that oral and overall health are intrinsically linked. But for many people, good oral health is frequently out of reach—often due to systemic inequalities that are far beyond their spheres of control. That's why the Delta Dental Foundation (DDF) is dedicated to improving oral health equity for all. With that in mind, and with an eye toward transparency in all that we do, we're excited to share some of the programs that have been driving our work over the past year.
Better Care for People with Disabilities
For the more than 6.5 million people in the United States with an intellectual or developmental disability, oral health care is often inaccessible. The reasons are numerous: an undertrained dental workforce, a need for expanded commercial insurance benefits, poor Medicaid reimbursement rates, and limited dental benefits for those covered by Medicaid. As a result, families often face long wait times, sometimes spanning years, for a dental appointment and then endure long drive times to a provider.
We're committed to radically shifting that paradigm through policy change (including the exploration of a Medicaid carve-out to protect dental benefits for those with disabilities), provider training (such as wholly funding an enduring series of free, online courses offered through Penn Dental Medicine), stigma reduction and education (like the national All Smiles Shine campaign and associated app, designed to help children with autism have better dental visits). Last year, we also committed more than $500,000 to develop Centers for Inclusive Dentistry, a project to provide resources and immersive training to deliver high-quality dental treatment to people with disabilities at designated Federally Qualified Health Centers.
This work—and more—inspired Delta Dental of Michigan, Ohio and Indiana to design and offer enhanced benefits for children and adults with special health care needs. You can learn more about it here.
Improving Oral Health Equity
Equitable access to good oral health looks a little different for everyone, and it's not just about opening more operatories. Last year, we provided $398,085 in grants to community health centers and other safety-net organizations that provide critical dental access to lower-income populations, LGBTQIA+ people and communities of color. We also provided $389,465 in grants to support community water fluoridation, a cost-effective, equitable approach to cavity prevention regardless of age, income, race or ethnicity.
But oral health equity also demands dental workforce development and diversity. That's why, in 2021, we provided more than $270,000 in scholarships to dental and hygiene students, including a brand-new Diversity Dental Student scholarship for individuals from systemically disadvantaged backgrounds. Evidence suggests patients of color receive better care from—and establish greater trust with—providers who look like they do. There's just one problem: there aren't enough of those providers to go around. Despite accounting for more than one-third of the U.S. population, fewer than 10 percent of dentists are Black, Hispanic, or Indigenous.
Financial concerns are one reason many prospective dental students bow out, and the DDF's hope is that by providing upfront financial support, the Diversity Dental Student Scholarship will encourage more students to take that leap.
Expanding Access to Care
The DDF funded a multitude of opportunities for people to receive care, whether it was through a Serving Smiles to Seniors event, a pets-and-people pop-up in partnership with Michigan Humane or free dental care for veterans through My Community Dental Centers or the University of Michigan's Victors for Veterans program.
We also heard, time and time again, that while many options for affordable dental care exist, few people actually know about or take advantage of them. To help make more of those connections, we launched Smile Help Now, a web-based directory that helps users find a provider in Michigan, Ohio or Indiana who provides no- or low-cost care, charges on a sliding-fee scale or accepts Medicaid. While it's still in early stages, we hope to build upon the platform in coming years.
Triaging the Pandemic
With COVID-19 still prevalent during 2021, many safety-net dental clinics struggled to keep up with the rising costs of the equipment necessary to safely provide care. With that in mind, we distributed $440,000 to 43 safety-net clinics in Michigan, Ohio and Indiana so that they could purchase COVID-19 related supplies and equipment, including PPE, air purifiers, teledentistry equipment and more.
Looking Back
In the shadow of yet another year fraught with uncertainty and an unrelenting pandemic, we focused on building. Renewing relationships. Facilitating partnerships of purpose. As a result, the DDF was able to invest in more people and programs dedicated to dismantling barriers to care. Although untangling the web of inequalities in our oral health care systems will take time, we are confident that our efforts—and those of our friends and partners—will yield powerful results. After all, everyone deserves a healthy smile.