2021 Community Commitment Award Recipients Check In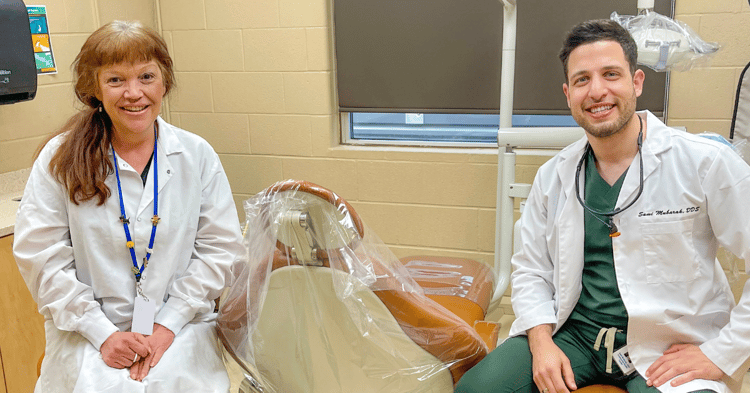 In Michigan, Ohio and Indiana, about 4.7 million people live in a dental care Health Professional Shortage Area (HPSA), a specific geographic area, population or facility that has a shortage of dental providers. In these areas, it can be especially challenging to find providers who accept Medicaid or offer other types of affordable options for people who are under or uninsured. As a result, many people have desperately few options for care, which negatively impacts their oral and overall health.
According to the Health Resources & Services Administration, Michigan, Ohio and Indiana need more than 859 oral health professionals working in those communities to remove the HPSA designations. It's a problem that won't be solved overnight, and it will require systemic and institutional solutions.
The Delta Dental Foundation (DDF) is doing its own part to encourage the next generation of dentists to practice in HPSAs with Community Commitment Awards.
Every year, the DDF awards $25,000 to one student from the Case Western Reserve University School of Dental Medicine, the Ohio State University College of Dentistry, the University of Detroit Mercy School of Dentistry, Indiana University School of Dentistry, and the University of Michigan School of Dentistry. Recipients commit to practicing in a designated HPSA in the state in which they attended dental school for at least one year immediately following graduation.
The DDF checked in with the 2021 recipients of the Community Commitment Award to hear more about their first official year of dental practice.
Nivien Masoud, Case Western Reserve School of Dental Medicine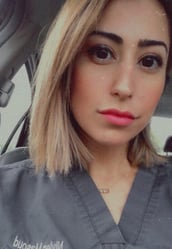 "I've worked my whole life in this field," Dr. Nivien Masoud said. "I worked my way from being a dental assistant to a dental hygienist and finally a dentist, and I am grateful I can serve populations in Cleveland that have limited access to care."
Dr. Masoud says the best part of her job is watching a patient's genuine reaction when they see their new healthy smiles and educating patients on the connections between oral and overall health. She also shared a story about a recent interaction with a patient who had "excellent oral health" at 75:
"We did our initial consult [on a broken crown] and I spent a little more time getting to know him. Our office then called his ride to the nursing home multiple times to ensure they picked him up. I went to treat the rest of my patients for the day, and when it was time to leave work, I saw him waiting outside after three hours. My heart sank. He did not have a cellphone. I called the driver again and waited with him. After about half an hour of hearing his life story, I was so grateful to learn about the long life he lived and how he'd immigrated to the United States. I ensured he was picked up and informed the driver to please make sure he was picked up sooner the next time. I walked to my car and cried because I felt his loneliness, and I was so happy I let him speak. In these moments, I feel the importance of not just being a doctor to my patients but someone they can trust and confide in. Sometimes we are caught up in the dental work and need to remember the life in our chair beyond the smile we try so hard to create or recreate. I will never forget him."
Sami Mubarak, the Ohio State University College of Dentistry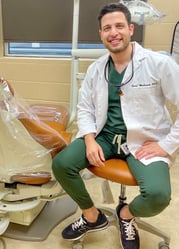 While he was born and raised in the inner city of Paterson, New Jersey, Sami Mubarak, lived a large portion of his life overseas in a small rural village. When he was young, he saw the extent of the poverty around him and witnessed first-hand the impact limited access to health care can have on one's life. That life experience inspired Mubarak to always help those in need and empower those from underprivileged communities—and, ultimately, become a dentist.
In 2013, he moved back to the United States for college and participated in the Summer Medical and Dental Education Program at Case Western Reserve University. There he shadowed dentists and loved the positive impact dentistry left on people's self-esteem and quality of life. But more significantly, he gained insight into the large number of communities in the United States that had limited access to dental. "It reminded me of the deplorable health conditions I witnessed in Palestine," Dr. Mubarak said. "It made me more determined than ever to become a dentist and dedicate my career toward reducing health disparities for underserved populations and improving community oral health outcomes."
Amber Jaress, Indiana University School of Dentistry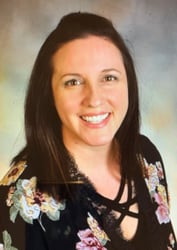 Before pursing dental school, Amber Jaress spent 15 years as an expanded dental assistant where she tackled almost every position a dental office has to offer: chairside assistant, expanded dental assistant, new patient coordinator, front office, and office manager for both nonprofit and private practice dental offices.
"My first experiences in the dental profession leaned more toward cosmetic than need-based dentistry, and I was yearning for the ability to truly make a difference in the lives of those who couldn't afford it otherwise," Dr. Jaress said. "So I started working for a nonprofit dental office that was founded by an Amish community, as well as the Indiana Hemophilia and Thrombosis Center." The Amish community she serves has a high rate of untreated caries, and some have bleeding disorders. "The very best part of my job is to see someone turn their oral health conditions around," Dr. Jaress said.
Jordan Spavor, University of Detroit Mercy School of Dentistry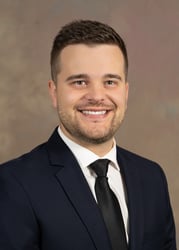 While nearing the end of dental school at the University of Detroit Mercy School of Dentistry, Dr. Jordan Spavor was unsure of what his next step should be after graduation. But after talking to 2020 Community Commitment Award recipient, Dr. Robert McDonald, the path became clearer. Working in a HPSA, he learned, could be a great opportunity to further his career while helping the underserved.
"The best part of my job is being able to help patients smile again," Dr. Spavor said. "Whether that is restoring severely broken down teeth, fabricating a set of dentures or alleviating someone's pain, seeing patients smile as we complete their treatment is definitely the highlight of my day."
Shernel Thomas, University of Michigan School of Dentistry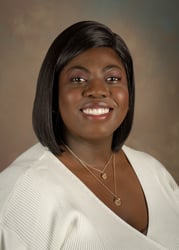 After graduation, Dr. Shernel Thomas started work at a My Community Dental Centers (MCDC) site in Sturgis, Michigan. MCDC provides dental care to just about everyone, helping patients find care options they can afford, regardless of their insurance status.
Dr. Thomas knew that she wanted to practice public health dentistry before starting dental school. "I enjoy serving in the community and being able to impact those who need that service the most," she said. "This [Community Commitment] award definitely made it a much easier choice financially to be able to work in public health."
To learn more about Delta Dental Foundation scholarships and student awards, click here.