2022 Community Commitment Award Recipients Check In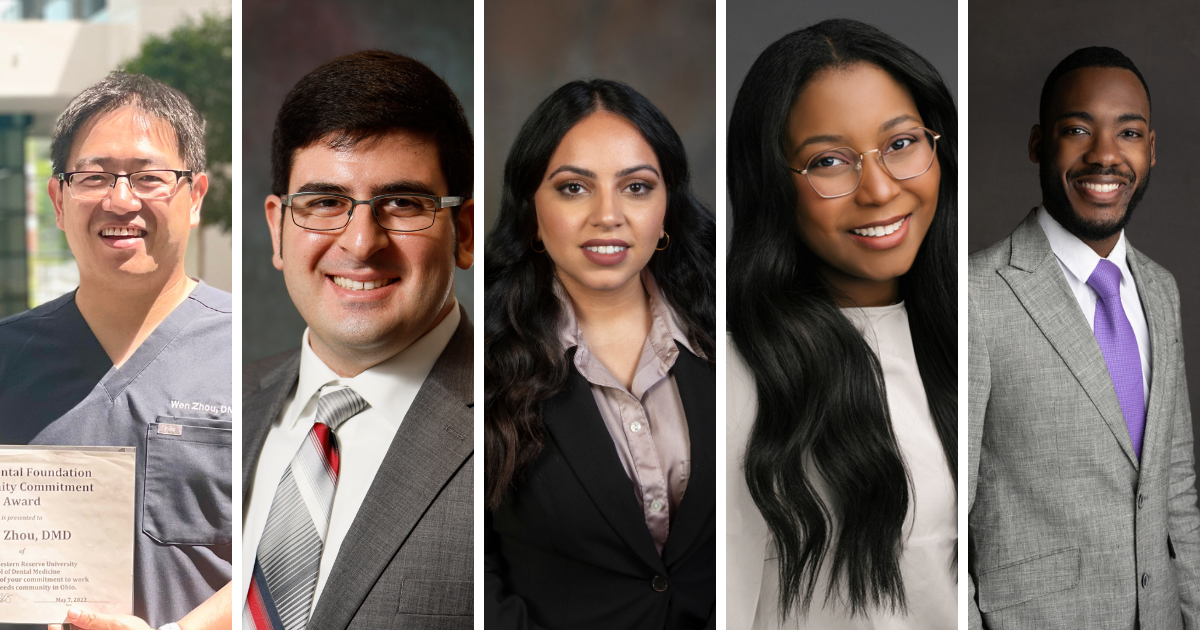 In Michigan, Ohio and Indiana, about 4.7 million people live in a dental care Health Professional Shortage Area (HPSA), a specific geographic area, population or facility that has a shortage of dental providers. In these areas, it can be especially challenging to find providers who accept Medicaid or offer other types of affordable options for people who are under or uninsured. As a result, many people have desperately few options for care, which negatively impacts their oral and overall health.
According to the Health Resources & Services Administration, Michigan, Ohio and Indiana need more than 859 oral health professionals working in those communities to remove the HPSA designations. It's a problem that won't be solved overnight, and it will require systemic and institutional solutions.
The Delta Dental Foundation (DDF) is doing its part to encourage the next generation of dentists to practice in HPSAs by offering Community Commitment Awards.
Every year, the DDF commits a total of $125,000 in awards to students from the Case Western Reserve University School of Dental Medicine, the Ohio State University College of Dentistry, the University of Detroit Mercy School of Dentistry, Indiana University School of Dentistry, and the University of Michigan School of Dentistry. Recipients commit to practicing in a designated HPSA in the state in which they attended dental school for at least one year immediately following graduation.
The DDF checked in with the 2022 recipients of the Community Commitment Award to hear more about their first official year of dental practice.
Wen Zhou, Case Western Reserve University School of Dental Medicine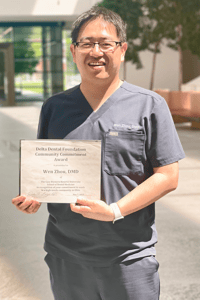 Wen Zhou started his educational journey in China, where medical and dental students were trained side by side for the first four years of their studies—something Zhou believes is key to medical-dental integration. Knowing his research potential, Dr. Yongfeng Shang, a Chinese Academy of Science member, encouraged him and recommended him to pursue graduate work in the United States.
At the University of Miami, Zhou earned a PhD in biochemistry and molecular biology under the mentorship of Dr. Joyce Slingerland, then director of Braman Breast Cancer Institute. He further trained as a research scientist in cancer biology under Dr. Carol Prives, a National Academy of Science member at the Columbia University in New York. After finishing his fellowship training with Dr. Prives, he was conferred editorship for several prominent biomedical journals. It wasn't enough, though.
"I was missing the patient interaction. But for a foreign-trained medical graduate, it would take years before I could get back to practicing in the United States," Zhou said. Dentistry, however, promised a quicker return to the patient experience, and he'd already gotten a taste for it during his initial studies in China.
With terminal degrees in dentistry, medicine and biomedical research, Zhou has unique—and extensive—education that helps him provide individualized care to his patients.
"Research has become a habit for me. I got to know many dental materials down to their chemical structures," Zhou said. "At the time, I didn't know how this would influence my daily clinical practice. I just wanted to compare materials in terms of which were better or stronger." The research in dental materials was performed with Dr. Fabio Antonio Piola Rizzante, director of research in the Department of Oral Rehabilitation in the Medical University of South Carolina. "But when I started practicing, I realized that this valuable knowledge could benefit patients. Different materials help patients with different needs!"
Zhou is passionate about being a continual learner. Recently he was elected to the board of the Greater Cleveland Dental Society (GCDS), and as the chairperson of the GCDS Membership and Communication Subcommittee. He spends time volunteering, reading, sharing research and building relationships with other local dentist friends, who he relies on heavily for referrals and advice.
At his clinic, Akron Family Dental in Akron, Ohio, Zhou treats a diverse patient population, many of whom rely on Medicaid and haven't seen the dentist for many years. His goal is to help patients to establish a dental home and receive regular preventive care rather than coming in only when they have an acute need. To do that, he says, you need to establish trust through patient engagement. Zhou starts that process by involving patients in their treatment.
"I don't make them decide on the spot," Zhou said, noting that he offers printouts with treatment options so that they can review on their own time and decide upon their preferred treatment plan. "I also encourage them to bring friends, significant others or whoever can help and support them. Usually, they come back very ready and knowing what they want to do."
John Savopoulos, The Ohio State University College of Dentistry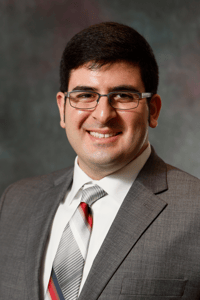 John Savopoulos was always determined to practice dentistry in the community he grew up in. Home for Savopoulos is in Warren, Ohio, where there is a large shortage of dental health providers to care for the population.
"The community that raised me is here and I wanted to return. When I said I wanted to go back to where I was from, I truly meant that," Savopoulos said.
At Mercy Health in Youngstown, Ohio, people come from three counties away to receive care because of the lack of affordable care options. Although he didn't initially plan to do a residency, after his two-week internship at Mercy Health, he knew he wanted to pursue one there.
"I have always been community service minded. This opportunity [residency] allowed me to enhance my skills and to continue serving people without having to refer them," Savopoulos said.
Mercy Health sees between eight to 10 walk-ins a day, with some people waiting as long as five hours to be seen for a variety of dental needs. Because of a lack of places to refer in the area their clinic is equipped to handle all kinds of dental treatment including surgeries, endodontics and more. This prepared Savopoulos to handle a variety of dental issues.
"Even if I can't cure or treat their issue, we can at least address it to help them feel a little better," Savopoulos said.
While he was able to practice independently, residency offered the opportunity to be overseen by other doctors in the clinic and participate in lectures.
During dental school, Savopoulos participated in the Commitment to Access Resources and Education (CARE) program. CARE brings together dental students who are interested in working in dental professional shortage areas.
"This award helped me to focus on becoming a better dentist. The money was a huge help and I was honored to be selected," Savopoulos said.
Jaspreet Kaur, Indiana University School of Dentistry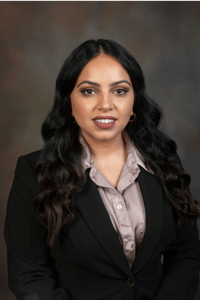 Growing up, Jaspreet Kaur was taught by her parents to help take care of others. As a child of immigrants, her parents emphasized that all people are equal, regardless of their background. Because of their influence, a career in dentistry seemed like a perfect fit to be able to help people.
"The best part of my job is the daily impact I get to have on patients' lives. That's what I carry home with me—those grateful patients," Kaur said.
While doing her undergraduate studies at Manchester University, Kaur had the opportunity to study—and work—abroad a couple times. This included a trip to work alongside a dentist in Nicaragua, where dental care is often not within reach.
"The experience emphasized how big the need for dental providers is, both here and abroad. When I came back, I took more public health classes, which inspired my love for community care," Kaur said.
Kaur carried that passion through dental school, and when she graduated, she chose to work in a community health center in Fort Wayne, Indiana. There, she works with a highly diverse population that includes refugees, Spanish speakers and the Amish.
"I get to see the holes in my own cultural competency and have been able to grow a lot," Kaur said. "I love working in public health and wish more students would get involved. There is such a need for dental providers."
Christen Thompson, University of Detroit Mercy School of Dentistry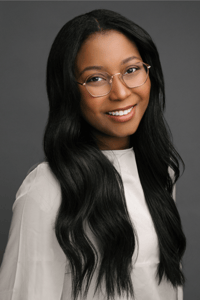 Christen Thompson always knew she wanted to work in health care. After shadowing a number of different health care professions during her undergraduate studies, Thompson finally found her fit in dentistry.
"I love how hands on dentistry is and how I can make a difference [for patients] in one sitting," Thompson said.
During her undergraduate studies, Thompson learned more about socioeconomic disparities in Detroit. This knowledge inspired her to pursue a career that would give back to people experiencing inequities after graduation.
"So many people don't have access to dental care, and it's often through no fault of their own. There are so many ways to fall through the cracks," Thompson said.
According to Thompson, dental school wasn't easy, but she credits her parents with helping her pursue her passions.
"My mom is a nurse practitioner, and my dad worked at an automotive firm. They were always so good at telling me not to let anyone limit what I thought I could do. They were really big on education and making sacrifices to make sure me and my three sisters could push through our education," Thompson said.
Thompson believes she has an important role to play as a Black provider in Detroit.
"Knowing I am a representation that wasn't there before means a lot to me. I don't take it lightly that there for some kids this is their first experience with a Black provider. When I see those kids in my chair, I ask them questions. I like to plant those seeds [about pursing dentistry] because what if no one else does?" Thompson said.
Jelani Holliday, University of Michigan School of Dentistry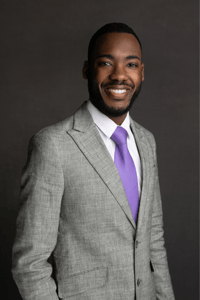 Although many people have a destination in mind when they graduate dental school, Jelani Holliday decided to let unmet need lead the way.
"I asked my professors about where I should go, and they told me about My Community Dental Centers," Holliday said. My Community Dental Centers has locations throughout Michigan and strives to provide all of their patients with high-quality, affordable care, regardless of insurance status or ability to pay. "I said it didn't matter much where I was—I just wanted to go where I was needed."
Growing up in rural Georgia, Holliday remembers the dental buses coming to treat people, including himself. Later in life, he saw many of those same access issues in Michigan. Knowing the need exists drives Holliday to give back.
"Faith is a big part of my life," Holliday said. "I believe God put me here to help people."
Holliday shared that some patients say they hate seeing him because he is a dentist and have fears surrounding treatment. He enjoys bringing them around to give them a new, positive experience with a dentist.
"The best part is changing their perspective," Holliday said.
Holliday credits his work experiences post-graduation and the Community Commitment Award with encouraging other dentists to work in historically or systematically underserved areas. "I was always community minded. This award has really made me more of a recruiter—this is a mission for me," Holliday said.
To learn more about Delta Dental Foundation scholarships and student awards, click here.