The Lifecycle of a From Drool to School Book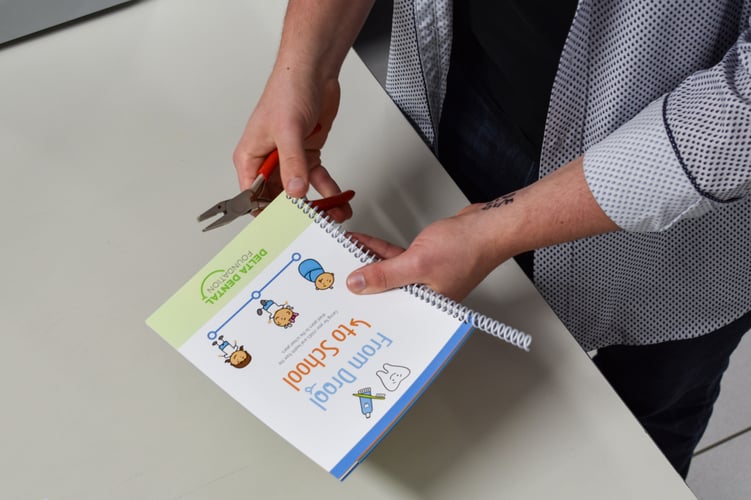 The advent of online shopping and overnight shipping has made it easy to forget what has to happen for a package to arrive at the door. The same is true for the educational materials the Delta Dental Foundation (DDF) produces and ships, free of charge, to community nonprofits as part of the in-kind request process.
From initial ideation to placing a box of materials on a truck, each item is the end result of several teams that are intimately involved in creation and distribution.
So what does the lifecycle of a From Drool to School booklet look like, and who are the people that make it all possible?
Step 1: Design, an Idea is Born
Every great project starts with an idea.
The DDF had partnered with a number of WIC (the Special Supplemental Nutrition Program for Women, Infants and Children) clinics and hospitals to increase age-one dental visits and improve oral health in pregnant people. That's where the concept of From Drool to School was conceived.
To develop any piece of material, including From Drool to School, the DDF team uses research, subject matter expertise and grantee feedback to develop oral health education that addresses specific areas of concern—or opportunities for change. The DDF team calls on its corporate partner, Delta Dental of Michigan, for design and printing support. Once text is drafted and a format is determined, Delta Dental of Michigan's design team can begin work on the digital project.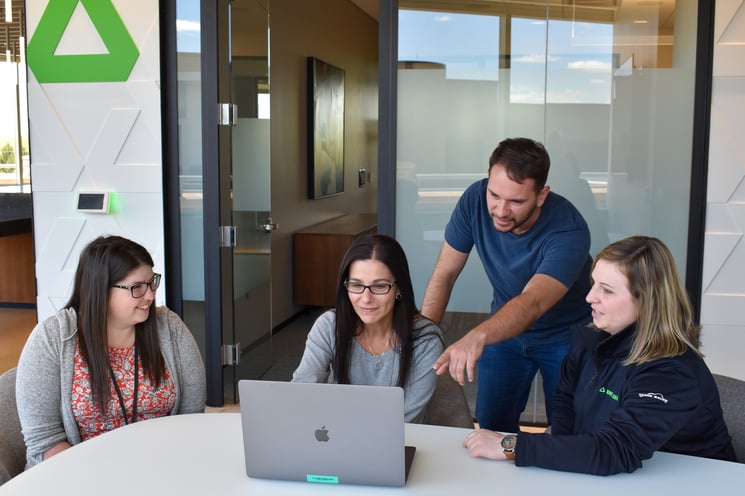 From left to right: Emily Waldschmidt, from the DDF, confers with Lisa Ferra, Corey Saladin and Darcy Wood from the Delta Dental of Michigan design team. (Photo by Jen Anderson)
The original From Drool to School book debuted in 2013. Lisa Ferra, senior multimedia design and program specialist at Delta Dental of Michigan, is responsible for many of the updates to the original book. Darcy Wood, senior multimedia design and creative specialist at Delta Dental of Michigan, will redesign From Drool to School, which will be available online, later this year.
Wood has been a designer for 13 years, nine of which have been at Delta Dental of Michigan. She specializes in brand development and creating a unique look and feel for various campaigns. Ferra has more than 30 years of experience and has worked in pre-press, design and production, and she's been a manager of printing and fulfillment in previous positions.
Juggling projects from different parts of the organization can be challenging. While many of the materials have a similar look and feel, it can take a fair amount of time and effort to come up with a unique document that matches the initial idea while maintaining a cohesive brand image.
Both Wood and Ferra bring a special set of skills to the table, and their design styles are different from one another. These complementary skill sets and stylistic differences help create new and interesting designs that are cost effective (from a printing and mailing perspective) and engaging to the reader or viewer.
The design process can take months depending on document length and project needs.
The assigned designer maps out the layout, often by placing the draft text into a blank document or a previously designed template. This step helps illustrate where natural line breaks happen, how many pages are necessary, where visual elements can be placed, and, occasionally, where there's too much text. Sometimes content must be cut or rewritten to improve flow and readability.
Once the initial design is partially complete, the designer sends sample pages to the DDF team for feedback. The DDF team reviews, offers feedback and suggested changes (if any) and then returns it to the designer. The designer adjusts the document accordingly, then resends to the DDF. This back-and-forth continues until the designer and the DDF are satisfied. During this process, each team ensures the text and the layout are error free.
It goes beyond proofreading, though. Another designer will review for layout issues, brand standards and more, all to make sure the end product is the best it can be. Once final changes are made and the file is in the correct format for printing, the assigned designer creates an interactive PDF for digital or online use electronically "packages" the entire document—complete with all the images, files, colors and fonts necessary to make it look its best.
Translating materials such as From Drool to School, which is available in Spanish and Arabic, requires an extra step. To create these versions, the files are sent to a translation company who determines the appropriate dialect.
At that point, the designer sends the carefully formatted design files to the printing team.
Step 2: Printing, Bringing Life to the Design
Each print run starts with a ticket.
"Our printing process involves several employees and machines," said James Koehler, supervisor for printing services at Delta Dental of Michigan. "We have state-of-the-art equipment that we use to produce our printed materials and are proud of the high-quality products we create."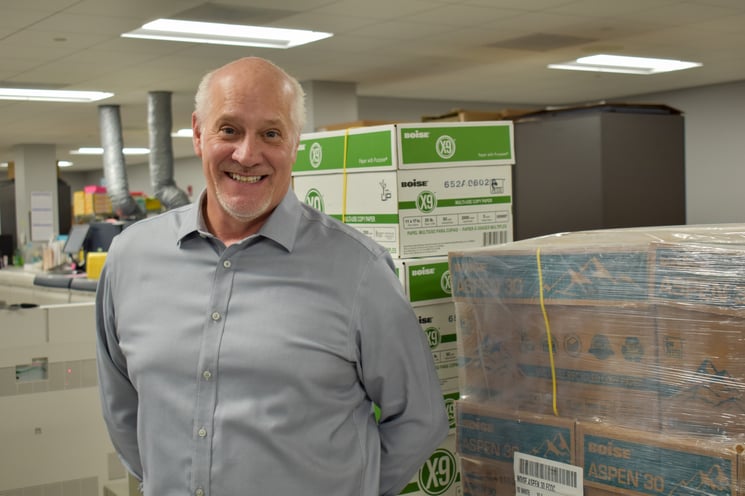 Jim Koehler in front of stacks and stacks of print paper boxes. (Photo by Jen Anderson)
Koehler brings more than 40 years of print-industry knowledge to the team. Since 2019, Koehler has led the printing and fulfillment team, and he's been a key player in improving the DDF's in-kind fulfillment process. Koehler also serves as the paper expert, selecting paper based on the project and product availability—a critical consideration when supply chain issues exist.
Paper used in the printing process can vary in size, texture (say, glossy or matte) and thickness. Each document has specific paper needs, so it is important that the printing press is loaded with the correct paper. The From Drool to School book actually uses two types of paper: one for the covers and tabs and another for the inside pages.
A sample document—a proof—is printed at the beginning of each print run. Creating a proof gives multiple teams the opportunity to catch errors before large batches are printed.
Using special software, the proof is also checked to make sure the colors match the correct Pantone shade to adhere to Delta Dental's brand guidelines. This helps ensure that no matter how many books are produced, they all look the same. In 2016, this commitment to quality earned the team a Print Center of the Year award from the In-Plant Printing and Mailing Association.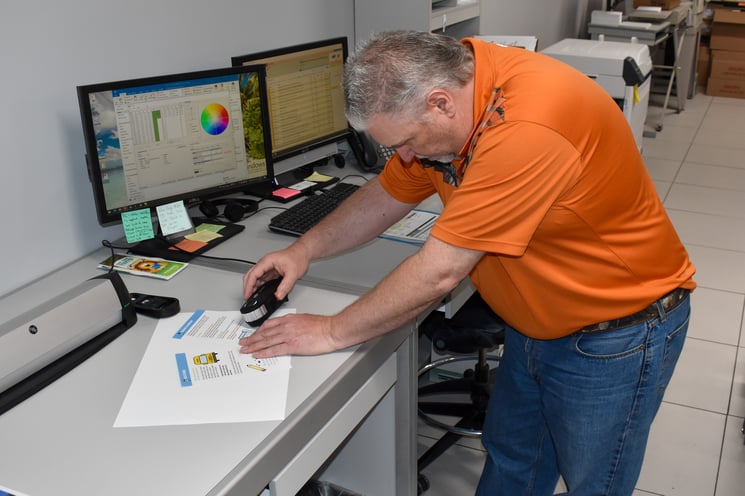 John Davis uses a special tool to inspect color values on pages from a From Drool to School book. (Photo by Jen Anderson)
John Davis, graphics print operator for Delta Dental of Michigan, is responsible for the color matching. While he started at Delta Dental almost four years ago, he has been in the printing industry for well over 30 years. The printing industry has changed dramatically since Davis started his career, but he appreciates that every day is different.
"I really like what I do, and I love working with all the different machines," Davis said. "I had the opportunity to leave the industry but chose not to. My wife and I just celebrated our 30th anniversary in May, and I met her through a previous job in the printing industry."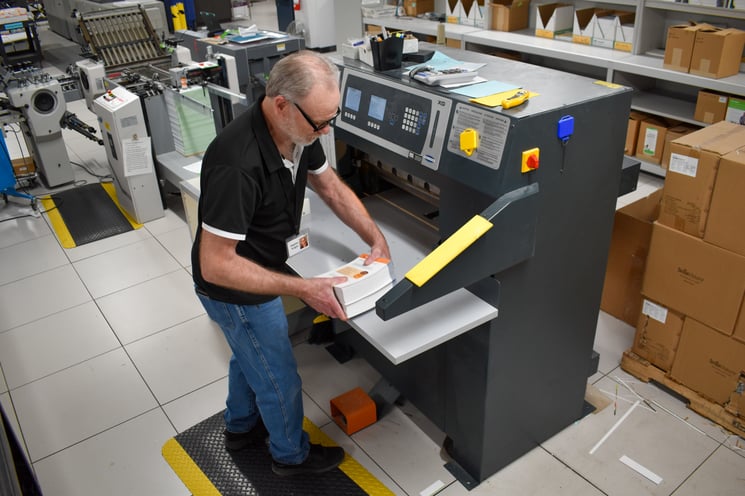 Stephen Knight handles pages from the From Drool to School book after they've been trimmed. (Photo by Jen Anderson)
After verifying the proof, the team prints the requested quantities, then trims each page to the appropriate size using a cutting machine. Machines do much of the work; however, some elements of the printing process are still managed by staff. For each From Drool to School book, pages must be put in order by hand after they are printed and cut.
Once the pages are in order, a member of the team feeds the books into a machine that punches holes for the binding. A coil and crimp machine adds and trims the spiral binding to complete the books.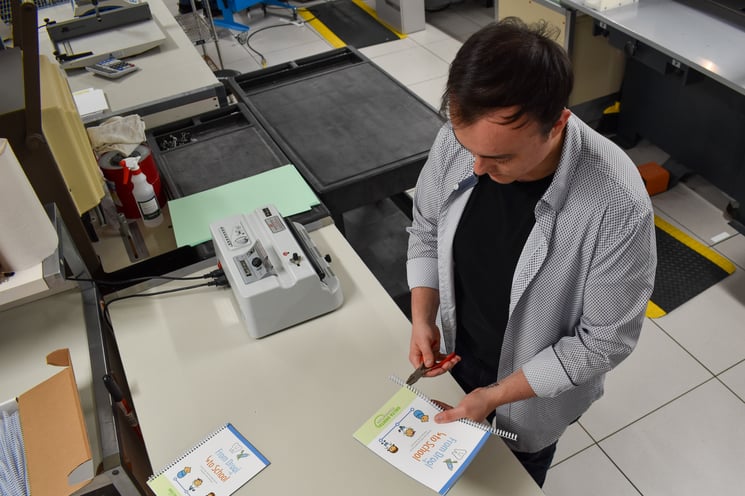 Josh Underwood manually crimps the spiral binding of an almost-finished From Drool to School book. (Photo by Jen Anderson)
Several printing employees are involved throughout the printing process. Operating the printers is significantly more complicated than using a standard office printer. These machines require staff with special expertise and knowledge on how to use the software systems that control the printers—and troubleshoot problems as they occur.
Step 3: Packing and Shipping, Sharing with Partners
After From Drool to School is printed and bound, the books are stored for use as part of the DDF's in-kind cycle. The book is just one of many items that can be requested, and more than 7,000 copies have been distributed in recent years.
The application for in-kind materials is open year round, but requests are reviewed and fulfilled quarterly. This process has been key to managing staffing challenges and procurement difficulties during the pandemic. Quarterly fulfillment creates a more predictable cycle for printing and fulfillment to prepare for, helping them fill orders without being overwhelmed with requests.
Once a quarterly cycle closes, the DDF reviews applications, sends notification emails to applicants and passes the list to the fulfillment team. A month before distribution, the team prepares by checking warehouse inventory, printing or reprinting materials and stocking shelves.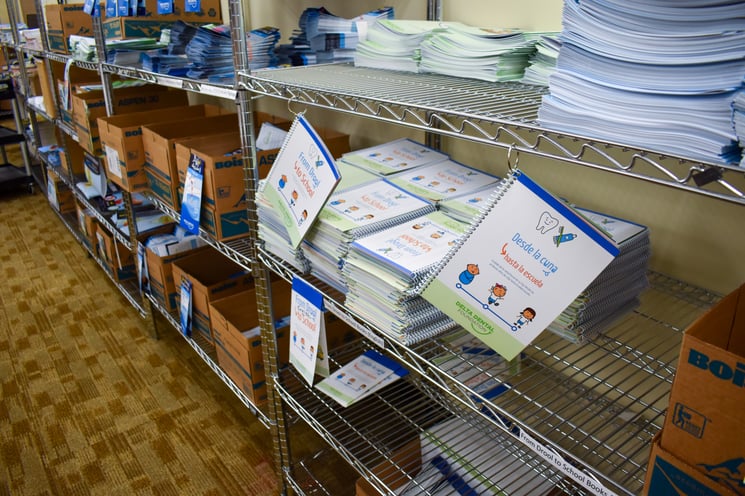 English and Spanish versions of From Drool to School books sit on warehouse shelves. (Photo by Jen Anderson)
"In-kind fulfillment really is a year-round process," Koehler said. "It takes a couple weeks just to get all materials shipped. During the downtime, we take inventory and stock up on items we are running low on."
Job tickets and packing slips are created for each request. From there, fulfillment is all about packing.
There are no fancy robots or machines to pack and ship materials. The fulfillment team pulls items from shelves, makes boxes, packs materials, performs quality checks and then adds a shipping label to each box by hand. This process typically takes a couple weeks, but once the packages stuffed with oral health education and hygiene supplies are ready, they're shipped to the requesting organizations.
In 2021, the printing and fulfillment team worked through the pandemic, shipping more than 630,000 in-kind items to 367 organizations. And that's just a fraction of the work for which printing, fulfillment and design are responsible.
Shana Tucker, who was recently promoted to inserter operator for printing services at Delta Dental of Michigan, helps coordinate ongoing projects with the DDF and ensures that all orders are sent in a timely fashion. While Tucker has never done anything like in-kind fulfillment in the past, knowing where the materials are going makes the job even more rewarding.
"Working with the DDF on in-kind fulfillment is one of my favorite parts of my job," said Tucker. "I love knowing that I am supporting the DDF's mission by helping to get materials into the hands of our community members that need them."
This teamwork helps nonprofits in Michigan, Ohio and Indiana better educate and distribute critical oral hygiene supplies to the communities they serve.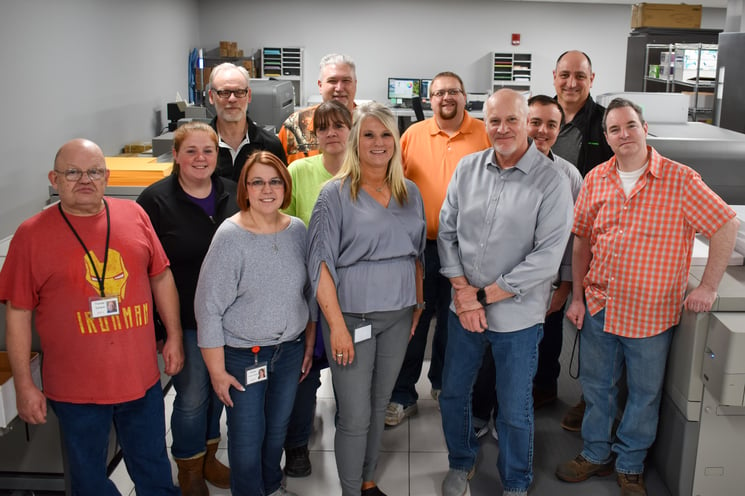 Members of the Printing and Fulfillment Teams. From left to right: Tom Schaub, Haley Morrice, Stephen Knight, Renee Archer-Hawkin, Patti Luttman, John Davis, Shana Tucker, Robert Campbell, Jim Koehler, Josh Underwood, Jason Thorn and Kenny Long. (Photo by Jen Anderson)
A big thank you to all the colleagues that help make the DDF's mission a reality!