Servicepeople receive free care, dental home during Veterans Day of Caring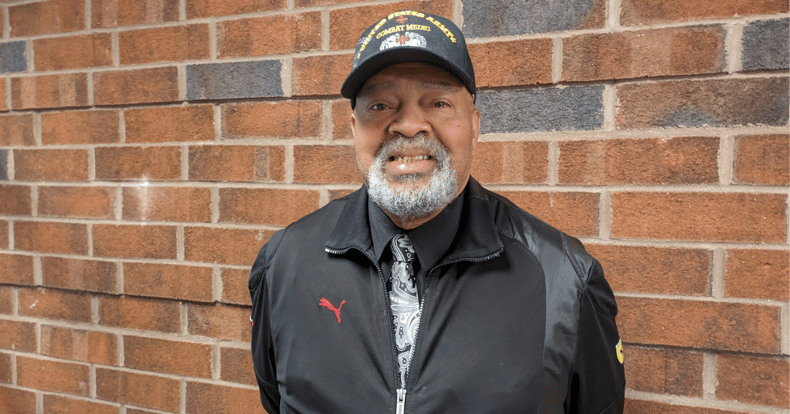 Michael Johnson grins from beneath his baseball cap, which reads "United States Army Combat Medic" in bold gold embroidery. Johnson received free dental care at My Community Dental Centers (MCDC) in Detroit as part of their Veterans Day of Caring on Nov. 3. After his appointment, he set aside time to talk teeth.
"I didn't always have issues finding dental care," he says, leaning forward in his chair. "But when my wife retired, we lost our dental benefits. That put us in a bit of a crunch situation."
More than half a million veterans call Michigan home—and, nationally, fewer than 15 percent are eligible for dental benefits through the Department of Veteran Affairs (VA). As a result, the remaining 85% may face significant challenges accessing the care they need. In fact, a white paper by the American Institute of Dental Public Health and CareQuest Institute for Oral Health suggests that 56% of veterans reported "active and treated decay" compared to 37% of non-veterans.
"Everyone assumes that if you're a veteran and you need some sort of health care you can go to the VA," says Dr. Deborah Brown, chief executive officer of MCDC and a veteran herself. "That's not the case at all. To qualify for dental care, veterans must have a service-related dental problem." Individuals can also qualify if they are a former prisoner of war or are totally disabled as a result of their military service. But that leaves many without good options to keep their mouths healthy.
MCDC created the Veterans Day of Caring to help challenge that disparity. In observance of Veterans Day, MCDC provides free dental care to veterans in multiple Michigan locations with grant support from the Delta Dental Foundation and the MDA Foundation. During each appointment, the MCDC care team triages the patient, focusing on treating their most urgent dental needs, then develops a treatment plan to help veterans get and stay out of pain.
"Pain is a motivator," Johnson says, somewhat ruefully. "Because we didn't have [dental] insurance, I was putting things off, not taking care of my teeth like I know I needed to." He pauses. "Plus, I do have a bit of a sweet tooth. Tooth pain is what eventually pushed me to seek care. I called MCDC, and they were happy to take me in."
Johnson, a lifelong Detroiter, has a better understanding than most regarding the connection between oral and overall health. Although he says he's semi-retired from his career as a respiratory therapist, Johnson is still working, teaching the next generation of physicians at Wayne State University how to perform patient exams with an eye toward whole-person, patient-centered care. The relationship—the trust—between patient and provider is key, according to Johnson.
That's what brings him back to MCDC. Although Johnson did need an extraction during his initial appointment, he never felt judged because of the condition of his teeth.
"It helps that the price is right, but it's also about the people. The staff here feel like family, and they welcomed me with open arms" he says.
Johnson isn't the only veteran who relies on MCDC for affordable dental care—this year, more than 2,000 veterans received care from an MCDC location. During this year's Veterans Day of Caring, MCDC provided nearly $20,000 worth of care to 74 veterans, many of whom will make MCDC their dental home.
"Our Veterans Day of Caring extends beyond dental services," Dr. Brown says. "It's an opportunity for us to show our gratitude and respect to those who have made immense sacrifices for our nation. This event also helps our organization foster a sense of community."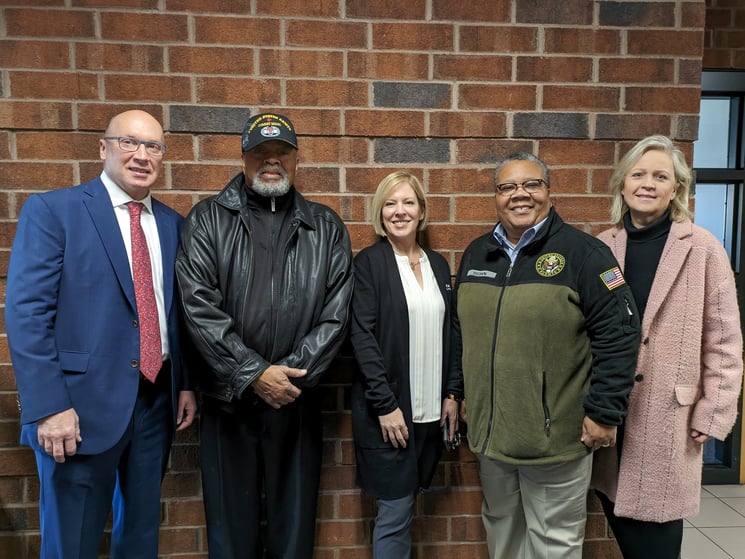 From left to right: Rick Lantz, Delta Dental of Michigan's vice president of government relations; Michael Johnson, veteran and MCDC patient; Holli Seabury, EdD, Delta Dental Foundation executive director; Dr. Deborah Brown, MCDC chief executive officer; and Anne Berquist, MDA Foundation director of development. (Photo by Jen Anderson)
Although programs like MCDC's are critical to bridging existing care gaps, sweeping systemic change, such as expanding eligibility for VA dental services, is necessary to ensure veterans can receive the oral health care they need.
In the meantime, with his oral health needs addressed, Johnson has more time to pursue his other passion: filmmaking. It doesn't take much prompting for him to produce his smartphone and show off clips from a plethora of projects—everything from true crime dramas to superhero stories. Now, he's finishing a documentary about sickle-cell anemia.
"My thing is, I love to help people," Johnson says. "You know, I teach my kids the same thing: it's about helping and serving."
For more information about how MCDC supports dental care for veterans, visit the MCDC's Dental Care for Veterans page or call 877-313-6232.