First Class of Diversity Dental Student Scholarships Announced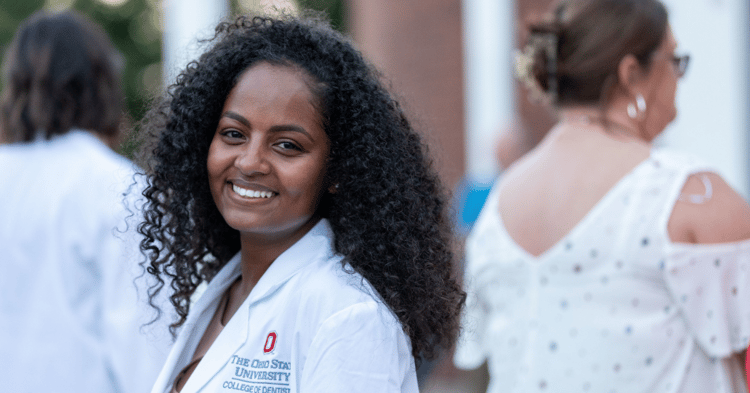 Evidence suggests patients of color receive better care from—and establish greater trust with—providers who look like they do. There's just one problem: there aren't enough of those providers to go around. Despite accounting for more than one-third of the U.S. population, fewer than 10 percent of dentists are Black, Hispanic, or Indigenous.
That's why, in 2021, the Delta Dental Foundation (DDF) provided more than $270,000 in scholarships to dental and hygiene students, including a brand-new Diversity Dental Student scholarship for individuals from systemically disadvantaged backgrounds. Now, the DDF is excited to announce the first class of future dentists to receive the Diversity Dental Student Scholarship.
Rachel Boler, Indiana University School of Dentistry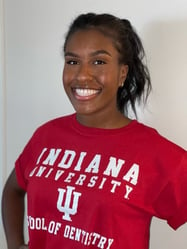 "As an African American woman and first-generation college graduate, I was not always confident that I could have a place in dentistry. However, when I decided to pursue dentistry, I received nothing but support and encouragement from my family, friends, and mentors."
Rachel also credits Purdue University's Horizons Student Support Services for many of the opportunities afforded to her—including study abroad, scholarships, tutoring, mentoring and lasting connections with peers and faculty—during her undergraduate education. "Now that I'm in dental school, I am eager to provide that same support to people like me and increase diversity in the dental field. My goal is to combat oral health disparities in my community, providing care to those who do not have access and ensuring equal treatment of all patients."
Gelila Kebede Hines, the Ohio State University College of Dentistry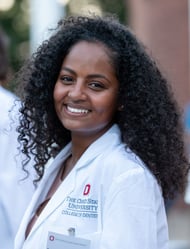 Gelila was born and raised in Addis Ababa, Ethiopia, and came to the United States at the age of 17. "My first visit to the dentist was at age 11 for dental pain that could have been prevented. After realizing so many others suffered from dental pain that could have also been preventable, I realized that I wanted to pursue a career in dentistry so that other underserved communities would have access to resources I didn't have growing up."
Eventually, Gelila moved to Ohio to attend Youngstown State University, where she received a bachelor's degree in dental hygiene. For two years, she practiced as a hygienist in Maryland and Ohio. "My experience as a hygienist exposed me to different barriers that minorities in the U.S. face, such as access to care, lack of proper education, as well as medical mistrust. I have met patients who had lost faith in dentists and were very reluctant to receive care due to bad experiences."
After graduation, Gelila plans to stay in Columbus and serve the needs of her community. "I want to restore patient's trust in dental professionals by addressing their needs in a compassionate way." before deciding to further her career in dentistry. "After graduation, I plan on staying in Columbus and working to serve the needs of my community."
Elias Khawam, Case Western Reserve University School of Dental Medicine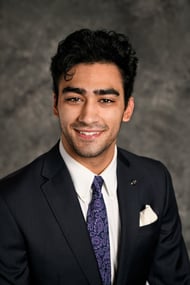 Born and raised in Cleveland, Ohio, staying close to home was important to Elias Khawam, first year dental student at the Case Western Reserve University School of Dental Medicine (CWRU SoDM). "I saw CWRU SoDM as the best outlet for me to help reach my goals as a health professional and on a personal level," he said. "Staying close to home was important, especially with my family around me." Growing up as a proud Lebanese Arab American, family is very important to Khawam, and so is learning about his culture.

"Food, art, music, and history are huge admirations of mine. I appreciate culture a lot, so I have always loved to continue learning about them, from all around the world; whether it's through reading, traveling or just talking to people of different backgrounds."

Khawam's attraction to dentistry comes from a long-standing passion for aesthetics coupled with his desire to impact people in a positive way. "I have always aspired to have an impact on people's lives through the work that I do."
Chiemeziem Nwachukwu, University of Michigan School of Dentistry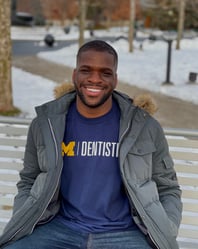 Before Chieme (pronounced CHEE-may) moved to Oak Park, Michigan, he lived in Nigeria, where he worked alongside his dad at their family pharmacy. "I found nothing more gratifying and memorable than witnessing the glimpse of hope from a patient's smile when they received medicine that promised to alleviate their pain." Those memories inspired his journey toward health care—and eventually dentistry.
"During my freshman year of college, I had the incredible opportunity to start volunteering at the Gary Burnstein Community Health Clinic," which provides free medical and dental services to the underserved in Pontiac, Michigan. Chieme found profound inspiration there.
"I came to value the beautiful relationship between a patient and their dentist, and I learned that every patient has their own journey." One story, he said, would follow him forever. The staff at Gary Burnstein Community Health Clinic had made upper and lower dentures for an older woman who had few teeth left in her mouth. Although anxious at an earlier appointment, the patient arrived for her denture fitting with newfound excitement and energy. "When she tried them on, I quickly handed her a mirror, not knowing the reflection would elicit tears. 'I haven't had a smile in two years,' she told me."
According to Chieme, moments like this reminded him of his experiences in Nigeria, where dental care was a luxury only the affluent could afford. "As a future practicing dentist in this community, I realized that [affordable care] is a huge problem that needs to be corrected, which is why one of my career goals is to narrow this gap."
Ariana White, University of Detroit Mercy School of Dentistry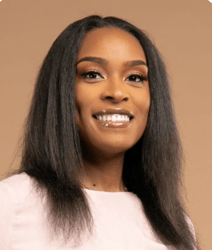 Ariana's journey toward dentistry started early. "As a child, I was always self-conscious about my smile, which led to me not smiling so often." But after orthodontic treatment, she became much more confident—and wanted to share the gift of greater self-esteem with others. "Many people face different challenges when it comes to oral heath, and I wanted to be in a position to aid people in overcoming obstacle within dentistry—whether that is increasing someone's self-esteem, becoming more comfortable with receiving dental treatment, and expanding access to care to more people."
Part of that dream means making it easier for more people like her to attend dental school. "I want to start my own scholarship program with the aim of removing financial obstacles for other minority students who plan to enter the field of dentistry," Ariana says. "The goal will be to cover the expense of the dental admissions test, study materials and fees for the first ADEA Associated Dental Schools Application Service application."
To learn more about Delta Dental Foundation scholarships and student awards, click here.