Miles of Smiles Goes Back to School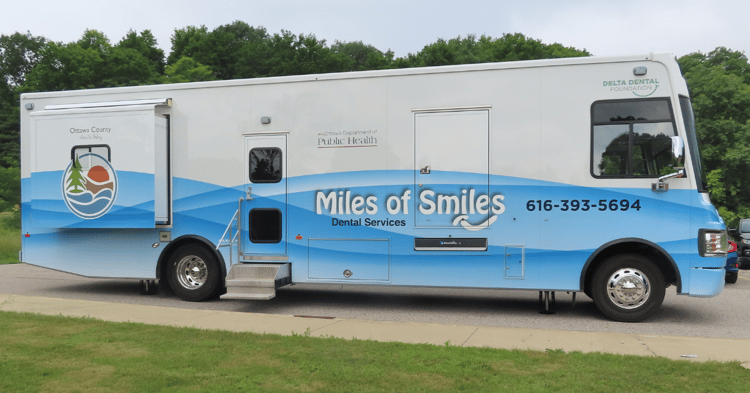 Imagine: it's morning on a typical school day, and buses are arriving at a school in Ottawa County, Michigan. Another bus—white and blue—pulls up that doesn't quite look like the rest. On the 40-foot-long Miles of Smiles mobile unit, kids are smiling, laughing and having a good time as they receive dental treatment. Children wear fun, protective sunglasses, ask as many questions as they can manage with their mouths full, and pick a prize at the end of their appointment.
When Maria Phe was growing up in Ottawa County, she had the same experience. Even as a precocious child with a million questions for the Miles of Smiles provider, she probably never imagined that, years later, she'd be standing on the bus again—this time as an oral health professional.
"My experience as a kid who received care with Miles of Smiles inspired me to become a dental assistant," Phe said. "But it was volunteering at my daughter's school and seeing the bus in action again that changed the trajectory of my career."
While she was a dental assisting student, Phe helped chaperone children during their dental bus visits.
"I thought it was a great opportunity to learn more about what a dental assistant is and see what the program is like," Phe said. "Each day I chaperoned, Miles of Smiles staff let me observe what was going on. When they found out I was a student, they were like hey, do you want to see what we're about? And every time I stayed longer and longer."
When she graduated, she joined the Miles of Smiles team and never looked back.

From left to right: Marie Phe and Donald Wickstra, DDS. (Photo by the Miles of Smiles Dental Team.)
The Miles of Smiles program, operated by the Ottawa County Department of Public Health, provides critical dental services to qualifying children during the school year, and in the summer, they visit migrant summer schools. While the mobile unit looks a little different than a traditional dental office, it contains all the same equipment, sterilizers and providers. Those providers include three Miles of Smiles staff members and more than 100 volunteer dentists and hygienists, some of whom are Grand Rapids Community College dental hygiene students.
Bringing the bus directly to each school or care site mitigates barriers to care, such as no or poor transportation options or limited scheduling availability.
Andrea Whittaker, oral health team supervisor at Ottawa County Department of Public Health, notes that people put off care for a multitude of reasons—not because they don't think their teeth are important.
"Everyone has competing priorities," said Whittaker. "If you're worried about making rent, buying groceries or paying for a doctor's visit to address an urgent medical need, the dentist isn't top of mind." The Department of Health's goal is to eliminate barriers so clients are able to make good oral health a part of their routine.
The program began caring for kids in 1995, and since then, three buses have served as the Miles of Smiles dental home, with the latest version finished in 2020. The Delta Dental Foundation started financially supporting the program via grant funding starting in 2008 with the most recent gift helping to build the newest Miles of Smiles bus.
Since the program's inception in 1999, over 36,000 people have received care, including 18,655 dental cleanings, 37,620 restored surfaces, 21,160 sealants and 19,023 fluoride applications. Each year, Miles of Smiles visits approximately 30 sites. In its 27 years of service, Miles of Smiles has averaged a 36% decrease in dental disease, proving that the mobile unit is making a difference in the oral health of those they serve.
Most recently, their biggest challenge has been the COVID-19 pandemic. According to Whittaker, many families deprioritized dental care during the pandemic or were concerned about whether dental care was safe.
"People are still hesitant to receive dental care," Whittaker said. "We are slowly getting patient numbers back up, but they're not quite to pre-COVID levels. For some parents, dental care has fallen off the radar because they have so much on their plates and for others, there is still fear."
Phe does her part to help reassure patients and their families that dental care is safe. Because Phe was a patient on the mobile unit, she understands exactly what families are facing. Many of the students Miles of Smiles serves have never visited a dentist before, which helped Phe reaffirm her commitment to easing patient fears and making it a fun, enjoyable experience.

Marie Phe treats a patient. (Photo by the Miles of Smiles Dental Team.)
After all, dentists are experts at infectious disease control, and COVID-19 monthly infection rates among dentists are and have remained low. Because oral health professionals work in people's mouths all the time, they follow strict hygiene practices that help to control the transmission of disease, including COVID. You can read on about the safety of visiting the dentist, here.
"Putting off dental care because of COVID fears may make a small oral health issue a big one," Phe said. "By staying current on dental visits, any dental health problems can be caught earlier and can prevent other issues—including complications from chronic diseases—from arising."
The number of Miles of Smiles patients are creeping back up, though. Now that the bus can reach its community again, the Department of Health is confident they'll see improvements in the oral health of their patients.
"Our goal is to change the dental experience and improve the oral health of children in our community, one smile at a time," Phe said.
For Ottawa County residents who would like to have their children receive dental care from Miles of Smiles, please visit: https://www.miottawa.org/health/ochd/Dental.htm.