Bringing Dental Care Directly to Kids Makes a Difference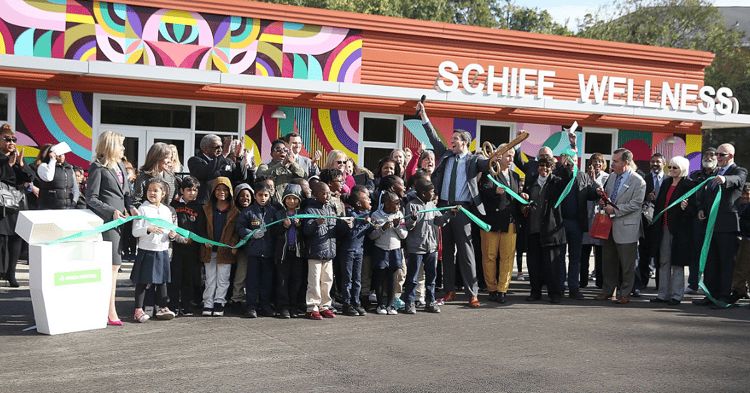 (A group of children, teachers, and providers celebrate the opening of a school-based dental center at the Academy of World Languages, part of the Cincinnati Public School district.)
For kids trying to make it through the school day, a toothache can be a real nightmare.
Anyone who's had dental pain knows it can be overwhelming: hard to focus, eat, speak—sometimes even sleep. Many people can alleviate that pain—or prevent it altogether—by regularly visiting a dentist.
But not everyone has that option.
About 15 percent of children don't see a dentist at least once a year—and the reasons are multifold. Their parents or guardians may not have reliable access to transportation, the ability to take time off work to bring them to an appointment, or the insurance to pay for care. As a result, over 34 million school hours are lost annually because of acute and unplanned dental care. These lost school hours combined with dealing with dental pain can put children at a disadvantage.
But I've seen first-hand that school-based dental centers can change that.
As the executive director of the Cincinnati Dental Society and Cincinnati Dental Society's Oral Health Foundation, I've been a part of the school-based dental movement in Cincinnati from the beginning. I got my start running a standalone dental clinic operated by the Cincinnati Dental Society and their Foundation. Back then, children in Cincinnati Public Schools were referred to us when they didn't have insurance, including Medicaid.
When the Affordable Care Act passed, more families became eligible for Medicaid. Our clinic ran on an all-volunteer dental workforce, and many other practices didn't accept Medicaid, which made it hard to meet that new demand. School-based health centers—like the Delta Dental Center at Oyler—sprung up to bridge the gap.
Here's how they're doing it.
Because the dental care is within the school, it's much easier for children to access. If they're having pain, they can go right down to the center without having to go home or ask their parents to schedule an appointment. In the meantime, the dental teams at the school-based dental centers work collaboratively with school administrators and teachers to coordinate appropriate times for when children can receive their dental care. It's not just about eliminating barriers to care—it's about changing the dental care experience.
Currently, there are five school-based dental sites in the Cincinnati Public School District. At the beginning of each school year, each student receives a dental exam, preventive treatment, and a personalized care plan for the entire school year. Children in kindergarten through fourth grade also have a set time to brush their teeth at school together every day, and they receive toothbrushes and toothpaste to take home for nights and weekends. The goals? Better oral health, less time away from classrooms, and affordable care delivered in a safe, trusted environment.
There is a sense of home at these school-based centers. It's less sterile. Students walk by just to say hello to the dentists.
That friendly environment, in addition to the personalized treatment plans, creates meaningful results. During the 2018–2019 school year, 84% of students at the Delta Dental Center at the Oyler School, which has been open and tracking metrics for the longest period of time, received a dental exam and preventive care (cleanings, sealants, and fluoride), and 88% of students had all necessary dental care completed (fillings and extractions of abscessed teeth). By the end of the year, these students were caries and pain free.
Those numbers highlight a key component of a school-based dental center's success: follow-through. The dentists perform as much work as they can to make following through with care and achieving optimal oral health an easier task. As an added benefit, students receive chairside education from the dentists to empower them to take control of their dental hygiene and make better decisions for their health.
Since the opening of the Delta Dental Center at Oyler School in 2013, the number of visits to treat cavities has decreased by 50%, and fewer visits are needed per child—which tends to correlate with a drop in complicated, restorative work. This success can, in part, be attributed to a strong focus on preventive care. During the last, pre-pandemic school year, the Oyler School alone saw a 42% decrease in children needing additional treatment, such as restorative care or extractions.
When the school year ends, care doesn't stop.
Even though schools close during the summer, the dental centers stay open to serve community members. Because schools are often located within the communities they educate, keeping the school-based dental center open year round creates critical access points for care. Each dental center can see 2,000 individuals at 4,000 visits each year. As a result, the health centers can become a dental home for the whole family. When parents and other community members are able to receive services there, it helps underscore the importance of dental care.
School-based dental have already made an outsized impact on the communities they serve.
Here in Cincinnati, the school-based centers currently in operation have been so successful that there are plans for more. In addition, preventive care programs—like toothbrushing at school—are likely to be replicated in other district schools.
And for the children who have dental needs that go beyond what the school-based dental center can provide, the Cincinnati Dental Society's Oral Health Foundation has programs to help—whether that's to cover necessary sedation for care or orthodontia for kids with severe cases. Ninety percent of the referrals for these programs come directly from one of the school-based health centers.
Dental treatment should never be out of reach for children in need—and the best way to make that happen? Bring dentistry to them. School-based dental centers help change the way children live, think about oral health, and develop good oral health habits—habits they'll hopefully pass on to their own children.
And that makes it all worthwhile.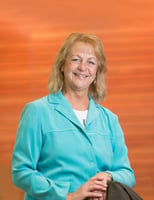 ---
Vicki J. Nixon, MSA, is the executive director of the Cincinnati Dental Society and Cincinnati Dental Society's Oral Health Foundation, as well as a board member for the Children's Oral Health Network. In her role, she often serves as liaison between these organizations and the Cincinnati Health Department, advocating for the importance of educating the students within the schools and the community on maintaining good oral hygiene. She has a bachelor's degree from Roosevelt University and a master's from Central Michigan University. Nixon was also the first recipient of the Jack W. Gottschalk, DDS, Notable Service Award in 2015. This award acknowledges and recognizes an individual or group who has provided profound and impacting contributions to the improvement of oral health of the underserved in the Greater Cincinnati area. In her spare time, Nixon enjoys boating, water skiing, and spending time with her new little puppy.