Art increases understanding about oral health and disabilities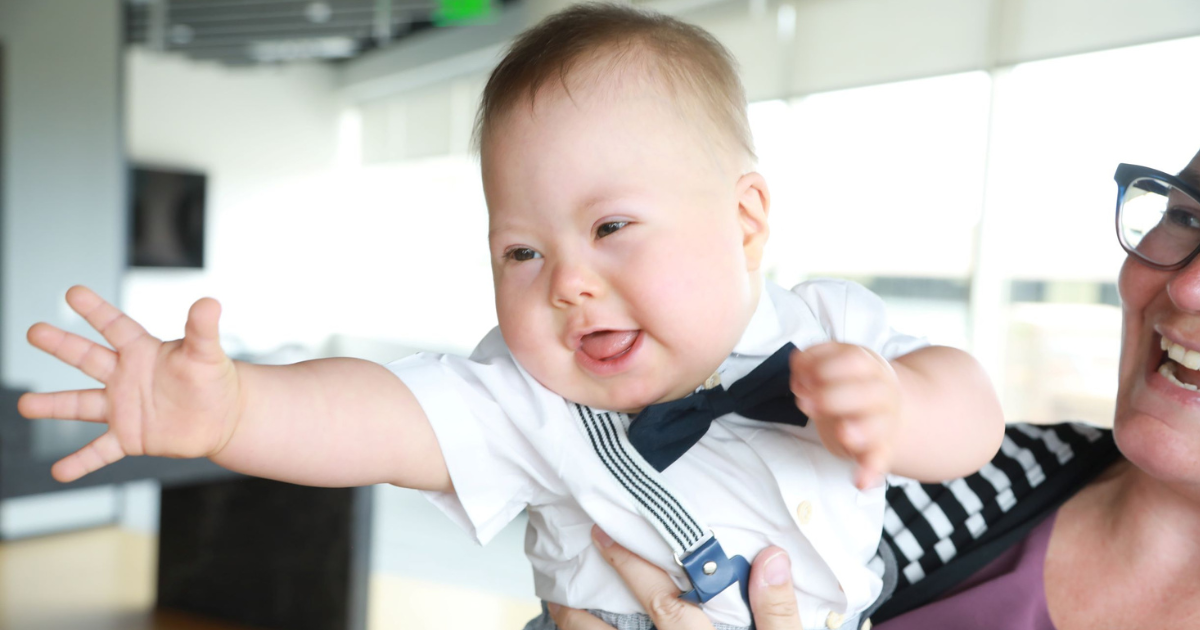 "I wish that they knew that she understands everything that's going on around her, even though she's nonspeaking. She listens, she's really smart."
That's what Samantha Leffman, the parent of a child living with bilateral perisylvian polymicrogyria, wants oral health providers to understand when they meet her daughter. She knows that while her daughter's needs may be different than what most dentists are used to seeing, they're not "special."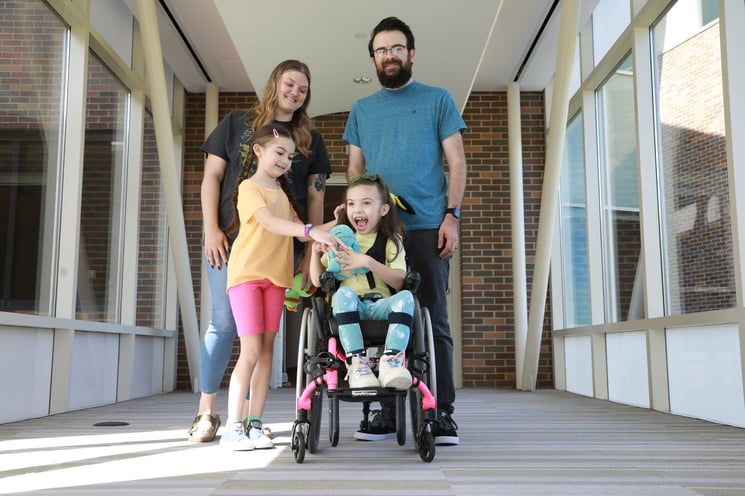 The Leffler family, with Winnie at the center. (Photo by Rick Guidotti)
For many able-bodied, neurotypical people, it's easy to practice good oral hygiene by brushing twice a day, flossing and regularly visiting a dentist. However, those same hygiene habits can become mountains to overcome for some people with disabilities, whether because of sensory preferences, a lack of fine-motor control, extreme anxiety, an inability to open one's mouth or any number of other challenges.
These obstacles to daily oral hygiene make regular visits to the dentist extra important.
However, oral health care is often cited as the number one unmet health care need for people with disabilities—especially those with intellectual or developmental disabilities. The "why" is a complex mix of stigma, misconceptions, a lack of culturally competent training, poor reimbursement models and a need for expanded dental benefits.
The Delta Dental Foundation (DDF) aims to change that.
"We wanted to emphasize that people with disabilities matter," said Holli Seabury, EdD, executive director of the DDF. "They're friends, neighbors and loved ones, and they deserve a healthy smile just as much as the next person."
Enter a collaboration with Positive Exposure, founded by award-winning photographer Rick Guidotti.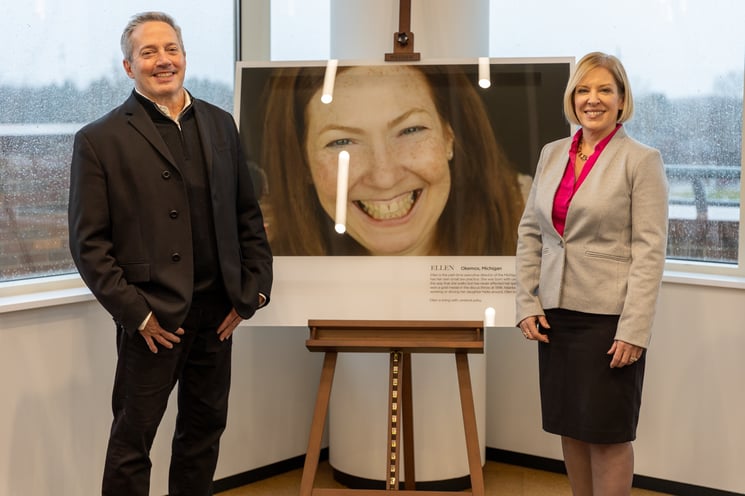 From left to right: Rick Guidotti, Ellen Sugrue-Hyman (pictured in the photo) and Holli Seabury. (Photo by Steve McClellan)
"I was a fashion photographer just tired of being told who was beautiful," Guidotti said. "So, I founded Positive Exposure 25 years ago to create opportunities to celebrate the beauty and richness of human diversity."
With Guidotti behind the camera, the DDF invited Michiganders with disabilities, like Leffman and her daughter, to participate in a free, two-day photoshoot at Delta Dental of Michigan. The goal? Create images that promote inclusion in dental settings and help lay the groundwork for future advocacy and education efforts.
For some of the participants, these images were the first family photos they'd ever had taken, and they were excited to share their stories—with the DDF and with a crew of videographers there to record them.
The photoshoot was only the beginning.
Earlier this year, select images were printed and displayed at Delta Dental of Michigan and at Heritage Hall in Lansing, Michigan, where families, advocates and legislators had the opportunity to learn more about the oral health disparities faced by people with disabilities. Nearly 200 people attended these events.
"To feel truly included, there must be representation," said Teri Langley, executive director of Disability Network/Michigan, a statewide network for accessibility resources, information and advocacy for people with disabilities. According to the Disability Network, 85 percent of people will eventually experience a disability in their lifetime—whether it's their own or a loved one's. "Attending the event gave us the opportunity to witness representation in the most beautiful way."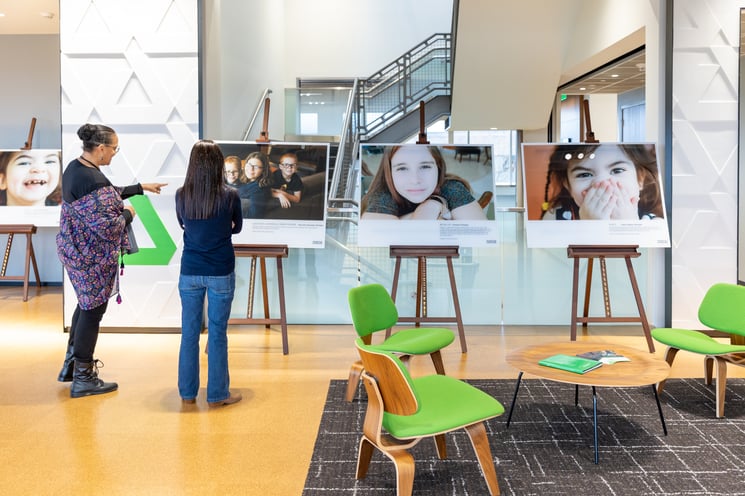 Gallery attendees view the photos. (Photo by Steve McClellan)
That representation will extend to waiting and exam rooms, too. The DDF is offering select photos from the gallery at no cost to nonprofit dental clinics in Michigan, with the goal of increased understanding and more people having an opportunity to see themselves reflected in the places they receive care.
Center for Family Health (CFH) in Jackson, Michigan, is the first clinic to receive and display Guidotti's images.
"The Positive Exposure exhibitions allowed us to celebrate people in our communities who may often feel unseen and unheard," said Dr. Katie Thornton, dental director at CFH. "We recognize that people with disabilities and their families face many challenges concerning oral health care, and we've made being accessible to people with intellectual and developmental disabilities a priority for our clinic."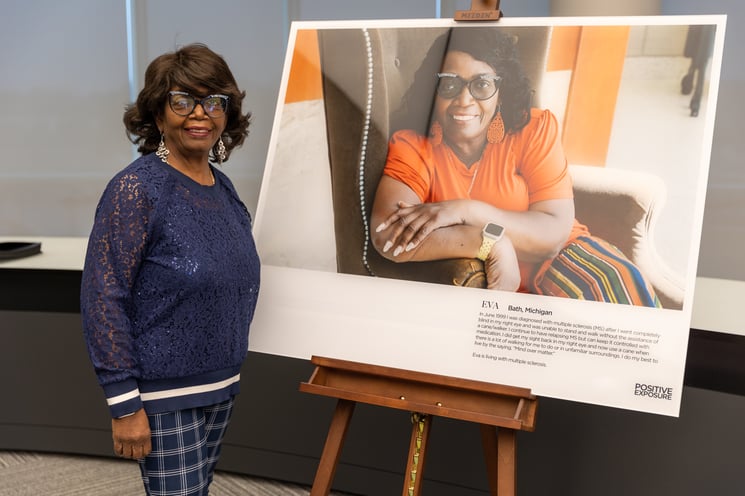 Eva, one of the individuals who was photographed, stands next to her own portrait. Her image is just one of the photos displayed at Center for Family Health. (Photo by Steve McClellan)
As one of the DDF's Centers for Inclusive Dentistry, CFH's dental team received immersive training to help them provide the best possible care to people with a wide range of disabilities. They also committed to operationalizing changes to create a safer, more welcoming environment to patients—especially those with unique sensory preferences or dental anxiety. These changes included the creation of a sensory-modulated waiting room, which provides patients (and providers) with a space to relax before their appointment, and the modification of two treatment rooms, which now include soundproofing materials, soft lights, headphones and fidget toys.
"There's no single solution when it comes to ensuring people with disabilities have access to high-quality dental care that meets their comfort level and abilities," Seabury said. "But we're committed to advocating for oral health excellence and equity for those who need it most."