Nine Ways to Welcome the LGBTQ+ Community to Your Dental Practice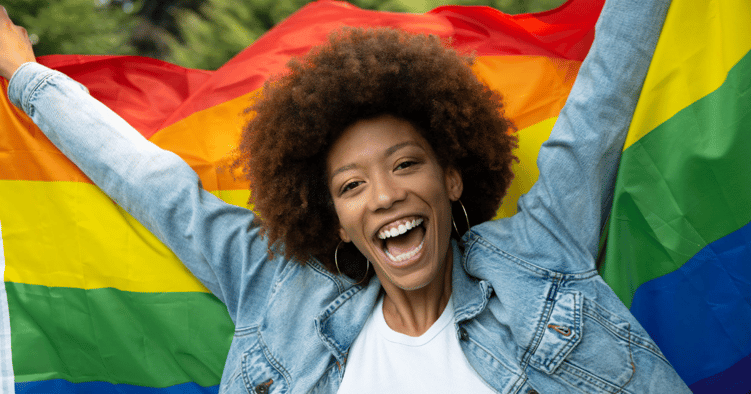 People in the LGBTQ+ community are often more likely than the general public to postpone health care—often due to financial hardship or fear of discrimination. But postponing care means they're more likely to have higher incidences of dental disease, pain and emergencies, all of which can have a negative impact on their overall health.
It doesn't have to be that way.
Oral health professionals have the power to proactively challenge that paradigm. Creating welcoming environments for LGBTQ+ people promotes trust, healing and better care for everyone. Here are nine ways to get started.
1. Use the right name and pronouns.
As a health care provider, using the right name and pronouns for your patients is key to building trust and improving their dental experience. Do not assume you know someone's gender identity or sexual orientation. Ask every patient for their name and pronouns, and add that information in their record, even if the information differs from their state-issued ID. Then, ensure every member of your staff uses these when interacting with the patient. If you or someone in your office makes a mistake, apologize: It happens to the best of us.
2. Recognize that everyone needs cultural competency training.
Oral health professionals are no strangers to continuing education. Brushing up on cultural competency training related to the LGBTQ+ community should be just as important as learning the latest implant technique. We all have biases we may not be aware of. Ensuring every member of the care team, including front office staff, commits to ongoing learning can help you deliver the best possible care to ALL patients.
3. Reconsider bathroom signage and arrangements.
Going to a restroom can be a complex and uncomfortable situation, particularly for transgender and non-binary people. Having a gender-neutral restroom can make everyone feel safer—and cared for. If you have single-stall restrooms, consider putting up gender-neutral signs (e.g., All-Gender Restroom). In some situations, you may not be able to change your facility's gender-coded restrooms. Explore whether there's another bathroom (say, for staff) that can function as a gender-neutral option for patients who request it. Don't forget to let your patients know it's available!
4. Update your physical—and digital—presence.
The little things matter. Rainbow stickers and Pride flags are great but consider the message your website, social media channels, signage, posters and educational materials sends. Portraying different people and family arrangements that reflect the diversity of LGBTQ+ people and their relationships in all of your materials helps signal care, support and respect. You may not be able to immediately change the educational materials you receive from third parties. However, you can always explain to your patient that while your materials aren't as representative as you'd like them to be, you feel the information they contain is still valuable.
5. Seek advice from the LGBTQ+ community.
Although you shouldn't expect your LGBTQ+ patients to be your teachers, you can (and should) seek input from the LGBTQ+ community, where possible. A local LGBTQ+ advocacy organization may be willing to perform a paid audit of your office. They can answer questions such as: "Will I be accepted here? Is this a place where I will feel comfortable? Does anyone here look like me? Did someone at the front desk ask for my name and pronouns and use them correctly? Are there materials available here for my community?" Be open to change—you never know where opportunities for growth will emerge.
6. Use inclusive language on your paperwork.
Update your intake forms and electronic health records to include multiple options for pronouns, gender and names. If your forms cannot be changed or your facility requires the collection of specific information, explain the "why" to your patients. By demonstrating that you know it's not an ideal situation, you can help build patient trust and comfort. For examples of more inclusive patient forms that also explain why some information must be collected, visit Fenway Health's Forms page.
7. Be visible as an ally.
Be clear that you care about treating LGBTQ+ patients. Distribute or visibly post a non-discrimination statement either in your office or on your website stating that equal care will be provided to all patients, regardless of age, race, ethnicity, physical ability or attributes, religion, sexual orientation or gender identity and expression. Visit Funders for LGBTQ Issues for best practices on crafting a meaningful nondiscrimination statement.
8. Explain why you're asking about sexual orientation, gender identity and relationship status.
Do your patients know why you ask for information about sexual orientation, gender identity and relationship status? Make it clear! Oral health professionals may need this information when considering treatment options and assessing risk factors so that they can provide the best care. As an example, hormone replacement therapy, which may be taken by patients of all genders for a variety of reasons, may increase the risk of mouth infections and bone loss.
9. Get comfortable being uncomfortable.
Making mistakes is how learning happens. What matters is how you accept feedback, apologize (if appropriate) and move forward. You may not always have the answer, but demonstrating a willingness to learn and make change goes a long way toward establishing trust and providing the best possible care for all people.