Training Providers to Deliver Better Dental Care to People with Disabilities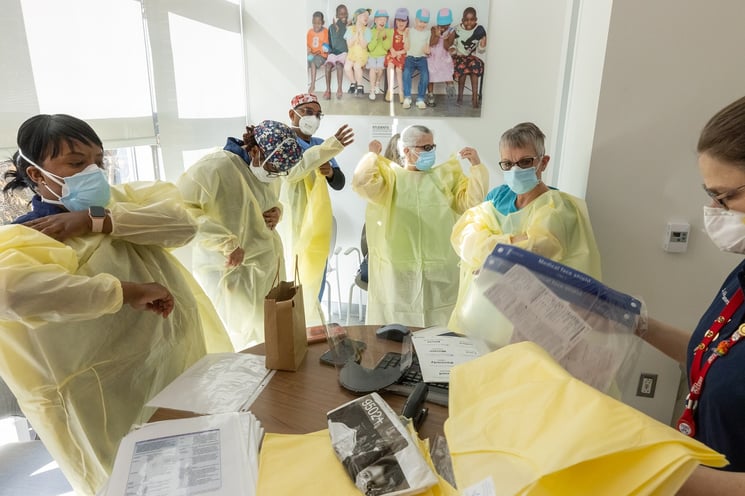 It's a sunny day in Philadelphia, but six oral health professionals from Michigan and Ohio are cloistered indoors at Penn Dental Medicine's new Care Center for Persons with Disabilities Personalized Care Suite. Together, they watch an instructor demonstrate how mouth props, wheel chair accessories and patient management can be used to help patients who are unable to open their mouths during a dental exam. With patience and the right tools, these providers are learning how to deliver dental care in a gentle and safe manner to patients with disabilities.
In attendance are five oral health professionals from Five Rivers Health Centers; Delta Dental of Michigan, Ohio, and Indiana's senior vice president and chief science officer, Dr. Jeff Johnston; and the Delta Dental Foundation's executive director, Holli Seabury. They are the first cohort to complete this training, with other cohorts completing this training throughout the summer.
The demonstration is part of a three-day immersive training, sponsored by the Delta Dental Foundation (DDF), designed to help strengthen provider skills in caring for people with disabilities. It's also step one of helping Five Rivers Health Center become a Center for Inclusive Dentistry (CID).
The DDF-funded CID program was created to provide the training and resources necessary to deliver high-quality dental treatment to people with disabilities at designated Federally Qualified Health Centers (FQHCs). The Centers of Inclusive Dentistry program requires this hands-on training, as well as a series of free online continuing education credits.
And the need is great.
"It became obvious very quickly after I started my dental career that there are tremendous issues in terms of access to care," said Dr. Miriam Robbins, director of the Penn Dental Medicine Care Center for Persons with Disabilities. "Even just getting oral health care because they [patients with disabilities] have no access to practitioners."
Some patients wait years to get into a dental clinic with the training and capacity to see them, and often that clinic is hours away from where the patient lives. This results in much higher rates of dental disease for patients with disabilities than the general population experiences, with almost half of those with disabilities experiencing active dental issues, such as pain, gum disease and cavities, and two-thirds experiencing the loss of permanent teeth.
Challenging perceptions of what it means to deliver disability-centered care
Upon walking into a dental operatory at the Center for Persons with Disabilities, attendees were greeted with yoga mats, pillows and papoose boards. While these may seem like strange objects to find in a dentist's office, tools like these are critical to helping meet patients with disabilities where they are. If patients are unable to sit in the dental chair, they might be able to sit on a mat on the floor, and the exams can be conducted there. For patients with sensory issues, using headphone or playing music and videos can be a game changer.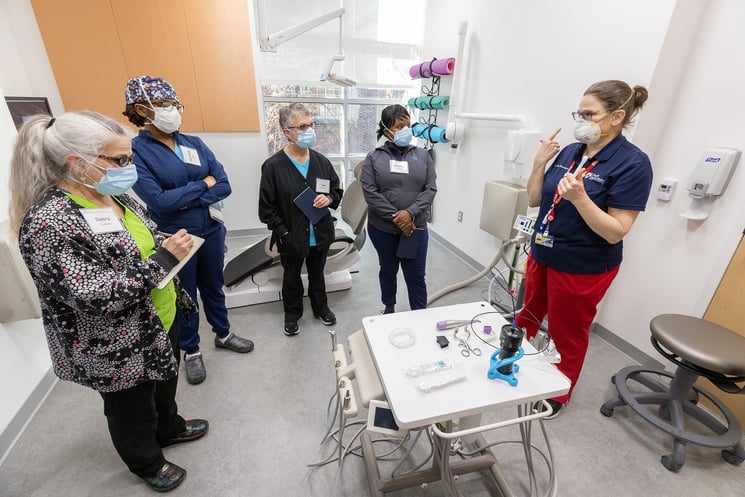 Dr. Risner-Bauman demonstrates different tools that can be used as mouth props to training participants. (Photo by Mark Gavin)
"You don't need a fancy piece of equipment. You don't need a wheelchair lift. There are ways to position someone who can't transfer from a wheelchair. While extra equipment is nice, it is not necessary to provide quality dental care," said Robbins.
With permission from patients and caregivers, attendees observed procedures in operatories or via camera in a conference room, where they were able to ask questions and discuss scenarios on a case-by-case basis.
"I was surprised by all the things we didn't know about trying to help patients with disabilities—many of the tools we saw were just modified versions of what we use every day," said Debra Gothard, a dental hygienist at Five Rivers Health Centers who participated in the immersive training. "Knowing that we can do dental exams on the floor and the types of aids we can use makes things easier."
Some changes—flavored nitrous oxide masks, bent toothbrushes—are simple to implement, and many everyday dental tools can be cut in a slightly different way to make them easier for patients to tolerate. Now that these devices are becoming even more mainstream, many can be ordered with regular supply orders.
Participants also learned about protective stabilization techniques, such as papoosing, by trying them out on each other—an experience participants described as one of the most valuable portions of the training.
This experience gave participants an opportunity to learn in a judgement-free environment while demystifying certain procedures and illustrating how they can be helpful, not harmful. Papoosing can help safely stabilize a patient by restricting their movement—and it can look scary. But many people who've been papoosed liken it to being swaddled, and often patients feel calmer when they're wrapped up.
"Some of [the attendees] really liked [being in a papoose]. For some people it can be very comforting, but until you actually do it, there might be a misconception about what's happening and how it actually feels," said Dr. Risner-Bauman.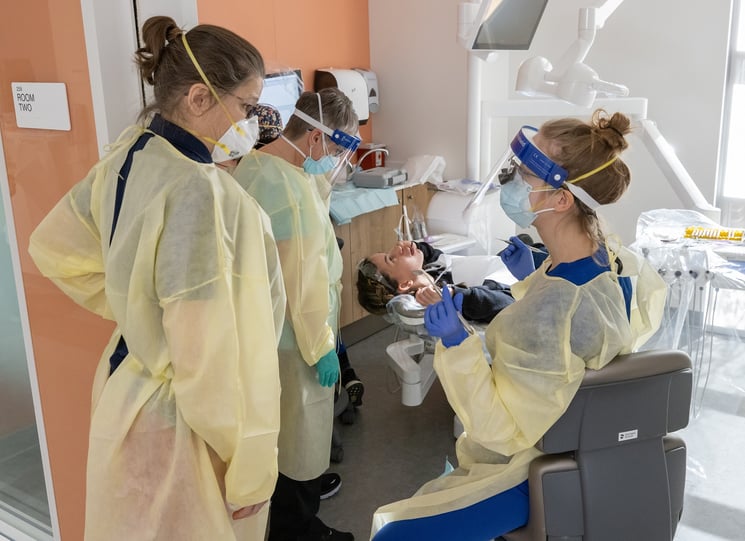 Training participants observe dental care in action. (Photo by Mark Gavin)
What happens beyond the dental chair matters, too. Participants had the opportunity to learn about operational excellence and care coordination from the Center for Persons with Disabilities' patient navigator.
"There are a lot of people involved in making a dental appointment successful for patients with disabilities," said Dr. Vinod Miriyala, a dentist at Fiver Rivers Health Centers who participated in the training. "While some of this is beyond the scope of the clinician, it does not make it any less important to consider. Arranging transportation, scheduling follow-up appointments and getting a complete medical history are all things we must do."
The patient navigator works with each client or caregiver to learn about the patient's condition, their needs and preferences, sensory challenges, transportation obstacles and more. This information helps the care team prepare and plan the best possible visit for their client. Training participants learned about patient navigators during the course and felt that it was the most interesting takeaway and were looking forward to integrating something similar into their own clinics.
Surveys suggest training improves confidence—and may drive change
Participants were surveyed prior to and after the training, and while the responses were self-reported, they still illustrated a dramatic change in overall knowledge in providing care. Provider confidence improved in areas such as ability to obtain and assess the comprehensive oral health needs of medically complex patients (31.4% increase), formulate treatment modification plans for patients with special health care needs (76% increase), and use of non-pharmacological behavior management techniques (93.5% increase), like manual or mechanical protective stabilization (e.g., papoosing).
These changes in confidence and skill can, quite literally, open new doors for patients with disabilities.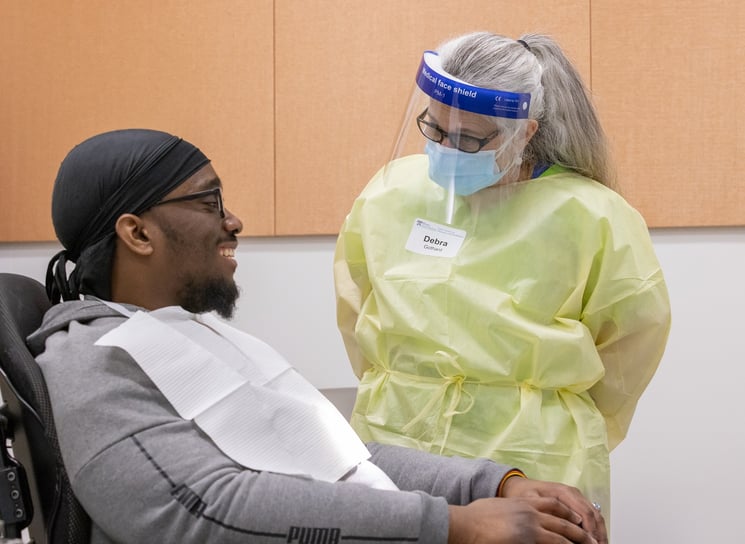 Debra Gothard, RDH, speaks with a smiling patient. (Photo by Mark Gavin)
"Many of us believed the only way to deliver care to people with special healthcare needs was b using conscious sedation—or an operating room," said Dr. Johnston. "When you understand that this type of care can be provided in almost any practice, you open up a wealth of access points."
Increasing access points is one goal of the CID program, as is strengthening provider skills, but it's also critical that said access points provide affordable care.
Although many people with disabilities are Medicaid beneficiaries, the services they require may not be covered, especially when it comes to oral health. Children's Medicaid programs tend to offer more robust dental coverage, but states are not required to provide an adult dental benefit. As a result, the out-of-pocket costs can be enormous.
The CID program aims to shift that paradigm by leveraging FQHCs. By law and by mission, FQHCs are required to provide care to everyone, regardless of who they are or their ability to pay. They accept many types of insurance, including Medicaid, and offer sliding-fee scales for services based on the patient's income.
FQHCs also provide critical wraparound services, such as transportation or translation services, in addition to (at minimum) medical and behavioral health care. In this way, patients can often have all of their health-care needs met in one centralized system and, potentially, one location.
The oral health professionals who participated in the immersive training will return to their FQHC and use what they learned to audit their current operations, evaluating what's necessary to provide high-quality care to people with disabilities. That might include rearranging clinic spaces, modifying existing tools or equipment and creating new processes and procedures for clinic staff who provide wraparound services.
Five Rivers Health Center is one of 11 FQHCs participating in the CID program. These FQHCs have committed to participating in workgroups to share best practices, with a goal of creating a turn-key model that can be replicated nationwide.
"This program is a fantastic start in helping make dental care more accessible to patients with disabilities, but we can't stop here," said Holli Seabury, EdD, executive director of the DDF. "Policy changes are an absolute necessity in order to establish oral health equity so all patients are able to seek the care they need."
The anticipation for better patient care is real
Disability doesn't discriminate based on race, ethnicity, age, gender or socioeconomic status—anyone can become disabled at any time for any number of reasons. Solving the lack of available, affordable dental care is a social justice issue as well as a medical one, largely because people with disabilities may be subject to systemic oppression in other ways. Being at an intersection of oppression (such as being disabled and gay or Black and disabled) can amplify barriers to care.
"There's a saying in many social justice circles that applies here: a rising tide lifts all boats," said Seabury. "When care becomes more accessible, innovative and compassionate, everyone benefits."
The impact of this training is already being felt for people like Shari Cooper, who has cerebral palsy. In addition to experiencing the kind of dental anxiety that many people might relate to, Cooper also noted that her condition is characterized by involuntary movement, making it difficult to sit still.
"When a dentist is in my mouth, it's hard for me to keep it open, never mind when they're picking around," Cooper said. "I'm going to jump, and I can't help it. It's like when a firecracker goes off and you get startled."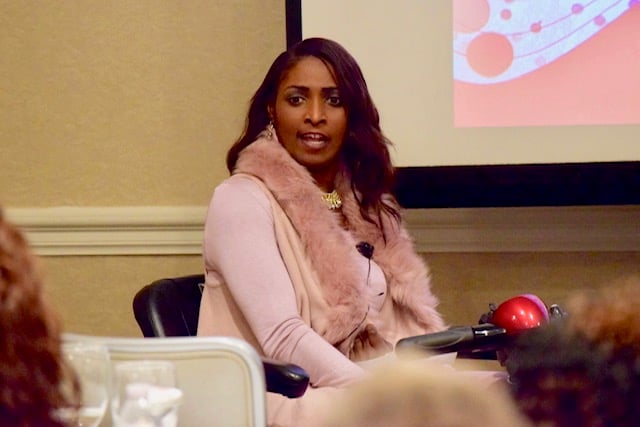 Shari Cooper at a speaking engagement. (Photo provided by Shari Cooper)
Before she was referred to Five Rivers Health Clinic, Cooper avoided the dentist, visiting only when she had serious pain. At one point, she hadn't visited a dentist for 15 years—largely because she hadn't found a person who empathized with what she was experiencing. But, after stepping into Five Rivers, she knew her relationship with dentistry might change.
"I live with a speaking impairment that often causes people to think I am cognitively impaired. That means sometimes people don't listen to me or talk to me. But the staff at Five Rivers listened and spoke directly to me. It meant a lot as a patient with a disability," Cooper said. "I cannot make it more clear how patient and kind [Five Rivers] was with me."
Cooper was so excited by her experience that she blogged about it, and she's still spreading the good word about the care she received. When she found out Five Rivers was participating in the immersive training with the goal of becoming a CID, she was thrilled—and reiterated how important it is for providers to listen.
"Dental professionals can and should be trained by people with disabilities," Cooper said. "I know what I need. Other people with disabilities know what they need. It's hard when people don't have empathy. The way you look is the way you feel, and teeth are a big part of that. If your grill is messed up, you're not going to be able to smile, your breath is going to smell bad. It's going to mess with your overall health."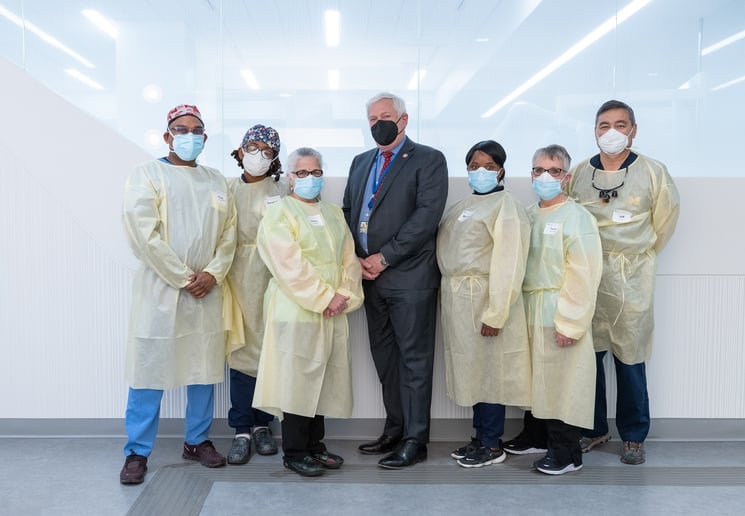 From left to right: Dr. Vinod Miriyala, Kennedy Miller, Debra Gothard, Dr. Mark Wolff, Dr. Maurine Kingori, Tura Johnson, and Dr. Jeff Johnston. (Photo by Mark Gavin)
Thank you to everyone who helped make this story a reality:
Shari Cooper, Goodwill Easter Seals Miami Valley
Holli Seabury, EdD, Delta Dental Foundation
Jeffery Johnston, DDS, MS, Delta Dental of Michigan, Ohio, and Indiana
Debra Gothard, RDH, Fiver Rivers Health Centers
Tura Johnson, CDA, Five Rivers Health Centers
Maurine Kingori, DDS, Five Rivers Health Centers
Kennedy Miller, Five Rivers Health Centers
Vinod Miriyala, DDS, Five Rivers Health Centers
Sherry Wilcoxson, Five Rivers Health Centers
Alicia Risner-Bauman, DDS, FADPD, DABSCD, Penn Dental Medicine
Mark Wolff, DDS, PhD, Penn Dental Medicine
Miriam Robbins, DDS, MS, Penn Dental Medicine
...and all the patients at the Center for Persons with Disabilities