Good Oral Health Should be a Point of Pride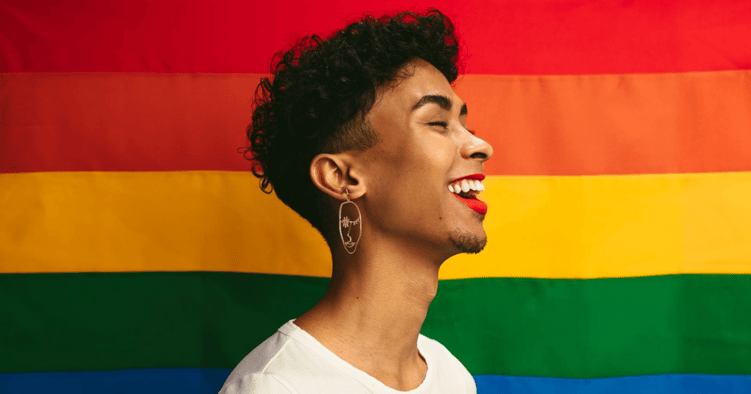 According to a recent Gallup poll, 7.1% of U.S. adults identify as lesbian, gay, bisexual, transgender or something other than heterosexual—double the percentage since 2012, when Gallup first started measuring. That same poll notes that for younger people (those born between 1997 and 2003), about 21% identify as LGBTQ+. All told, that's nearly 24 million people.
But despite the growing population of LGBTQ+ people, study after study reports the same thing: in healthcare settings, LGBTQ+ people report experiencing discrimination.
A recent survey conducted by Anubhuti Shukla, DDS, BDS, MHA, and her colleagues, funded by the Delta Dental Foundation (DDF), suggests these issues carry over to the dentist's office. Although 84% of responding oral health providers say that their practice environments are welcoming to LGBTQ+ individuals, 43% of LGBTQ+ respondents report feeling uncomfortable going to appointments, and 34% report being treated unfairly during because of their sexual orientation. This kind of discrimination (or fear of discrimination) can have significant downstream effects, such as decreased service utilization and poor health outcomes.
To improve population health and provide the best possible care for everyone, oral health professionals must be ready to educate themselves on the LGBTQ+ community's unique healthcare needs—and commit to providing equitable care.
To help celebrate Pride, the DDF discussed these very issues with Patrice Wade-Olson, DNP, RN, AGPCNP-BC, at Corktown Health Center in Detroit, Michigan, and Dr. Deborah Brown, chief executive officer at My Community Dental Centers.
Corktown Health Center is the first medical home focused on serving the LGBTQ+ community in southeastern Michigan. They offer primary care, behavioral health services, comprehensive HIV care and treatment, cancer screening, health insurance navigation and—very soon, with DDF funding and support from My Community Dental Centers—dental care.
How do LGBTQ+ people face inequality in oral health care?
PWO: There are many financial barriers that play a role—including whether you have insurance. According to the Williams Institute, 22% of LGBTQ+ people in the U.S. live in poverty. That's compared to 16% of straight, cisgender people. So, for many LGBTQ+ adults, Medicaid may be their primary source of health insurance. The problem with that is the fact that 64% of states have limited, emergency or no dental benefits.
Even without adding the complications of discrimination and lack of provider education, without dental coverage or the money to pay for care, going to the dentist may not be an option unless it is an emergency.
DB: I find that LGBTQ+ people face inequality in oral health care when they are exposed to a non-inclusive environment. For some, oral health care is an anxiety stressor, and that anxiety is compounded when a patient is brought into a situation in which they feel like an outsider. We are still not completely visible when it comes to oral health care. Unfortunately, LGBTQ+ people are sometimes judged by outward appearances and stereotypical assumptions and labels are often assigned to patients. LGBTQ+ patients want to feel safe and included. Respecting and using appropriate pronouns for all patients are often a very small change that can mean a lot.
What keeps LGBTQ+ people away from dental appointments?
PWO: Other than the access and financial barriers I mentioned earlier, fear of poor treatment and refusal of services plays a significant role in avoidance of dental appointments. As an example, one-third of the 28,000 respondents to the U.S. Trans Survey who had seen a health care provider in the past year "reported having at least one negative experience related to being transgender, such as verbal harassment, refusal of treatment, or having to teach the health care provider about transgender people to receive appropriate care." Around 23% of respondents did not see a doctor when they needed to because of fear of being mistreated as a transgender person.
Plus, if you are a member of the LGBTQ+ community and also belong to any other groups that have been systemically or historically disadvantaged (e.g., being Black, gay and disabled), that compounds the difficulty in finding nonbiased care.
DB: I would say many LGBTQ+ people stay away from dental appointments due to fear of being judged or criticized for their lifestyle. Sometimes a person might want their spouse or partner present at the visit, but they are not confident on how they will be accepted. Very often LGBTQ+ people are in a position of having to go through an uncomfortable "coming out" session with their oral health care provider. This process often adds extra stress for the patient for fear of bias, and they may choose to skip an appointment altogether.
Why might an oral health professional need to know about someone's sexual orientation or gender identity?
PWO: Having an awareness of their patient's gender identity and sexual orientation will allow them to tailor their care to best fit their patient's needs. For example, the use of gender affirming hormone therapy—which can be used by people of all genders but especially those who may be transitioning—seems to be linked to a greater risk for periodontal disease. Knowing that someone is transitioning can help a provider create a better treatment plan.
DB: It is important for an oral health profession to know a patient's sexual orientation or gender identity so that they can provide the very best health care possible. Quality health care consists of more than just dental procedures. Quality health care includes a broader range of care that stems from getting to know the patients, establishing trust, and creating a relationship where the patient and the oral health professionals can communicate fully. If a patient feels accepted by a health care professional, they will not only be more apt to follow medical advice and practices, but they will further be more open and honest about their own dental health concerns and background. Health care providers take the first step in establishing quality health care by becoming aware and accepting a patient's sexual orientation and gender identity.
What makes a health care environment more welcoming for LGBTQ+ people?
PWO: Representation is so important, and it's not just about displaying a rainbow flag or ensuring your office includes magazines, ads and posters that display LGBTQ+ identified people (though all of those things are good). Providers need to ask themselves: Do we have staff members who reflect the diversity of the patient population we're serving? And if the answer is "no," the next question should be, "Why not?"
You can also make your office more welcoming by adding inclusive questions (e.g., including multiple options for gender) on intake sheets and having space for people to write their name and pronouns, especially if they're different from what's on their state ID.
This goes beyond paperwork, too. It's important for every member of your care team to use the right words and pronouns when referring to someone and their gender identity and sexual orientation. [For a helpful guide to LGBTQ+ terminology, check out the It Gets Better Project LGBTQ+ glossary.]
Every member of your team can help make this happen. Your staff should ask every patient how they would like to be addressed. That way no one is making assumptions about gender identity or sexual orientation, and no one is being singled out.
DB: There are many ways that a health care environment can be made to be more welcoming for LGBTQ+ people. This could include displaying a sign stating all are welcome with the rainbow pride emblem, placing dental health literature in the office that is inclusive of the LGBTQ+ community, and also including a few optional questions on patient registration forms asking for a patient's sexual orientation and pronoun preference. Showing the patients that the health care practice supports the LGBTQ+ community will create a welcoming and comforting environment for everyone.
Are LGBTQ+ people at greater risk for oral health issues? And if so, how come?
PWO: Yes, some are. LGBTQ+ people often face social stigma, discrimination and other challenges such as a greater risk of harassment and violence, which are significant stressors that can negatively impact behavioral health. As a result, they are at increased risk for substance (e.g., alcohol, drug and tobacco) use and for mental health issues (e.g., depression, anxiety and eating disorders).
These things can contribute to poor oral and overall health. When someone is depressed, they are less likely to engage in health maintenance activities, such as brushing their teeth and flossing regularly. Substance use is associated with cavities, periodontal disease, tooth loss and more.
DB: I don't think LGBTQ+ people are at greater risk for oral health issues. However, they are at a greater risk of not seeking care. Being part of this community and dealing with social stigmas can lead to depression and substance use which in turn leads to oral health problems. LGBTQ+ people will often not seek care if they feel they will be judged or treated poorly due to assumptions and prejudices about their sexuality.
How can dentists be better allies?
PWO: It's every provider's responsibility to be more informed about LGBTQ+ health and to create inclusive, welcoming spaces for LGBTQ+ people.
DB: Dentists can be better allies by being open and welcoming. For starters, health care practices should advertise that members of the LGBTQ+ community are welcome, embrace and treat all patients equally, refrain from making assumptions about people based on outward appearances, and treat all patients as a person not as a lifestyle. LGBTQ+ people want to be seen, heard, included, and accepted.
For more information on how you can make your practice welcoming to the LGBTQ+ community, visit "Nine Ways to Welcome the LGBTQ+ Community to Your Dental Practice."
If you or an organization you work for is working toward oral health equity for LGBTQ+ individuals in Michigan, Ohio or Indiana, please visit our General Grant Requests page to learn more about funding opportunities.
| | |
| --- | --- |
| | Dr. Deborah Brown joined My Community Dental Centers as chief executive officer in August 2018 with an extensive executive background in oral health, nonprofit management, and Medicaid/Medicare health insurance programs. She earned her Bachelor of Arts and Doctor of Dental Medicine degrees from Rutgers University, as well as a Master of Healthcare Administration from Seton Hall University. She is a board certified Fellow in Healthcare Administration with the American College of Healthcare Executives. Dr. Brown is a United States Army veteran who served during the Cold War in Western Europe. She is a member of the American Legion and Kent County Michigan Veterans Honor Guard. |
| | Dr. Patrice Wade-Olson specializes in HIV care, LGBTQ+ focused primary care, gender affirming therapy, HIV prevention, and sexual health. She is passionate about trauma-informed care and creating safe and comfortable spaces for her patients. Dr. Wade-Olson has a doctorate in nursing practice from Wayne State University and a bachelor's in nursing from Grand Valley State University. She is an ANCC board-certified adult-gerontology primary care nurse practitioner and a certified HIV specialist through the American Academy of HIV Medicine. |